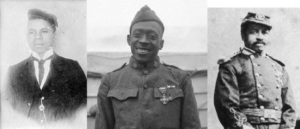 The Medal of Honor was introduced during the American Civil war. It is the highest military adornment presented to members of the United States armed forces by the U.S. government. The Medal was awarded to those who were fully devoted and ready to risk their own lives beyond the call of duty to defend their country against enemies. A research carried out by the United States Army in 1993 proved that racial discrimination was so high in the Armed Forces such that none of the black soldiers was awarded the Medal of Honor for their courageous acts and contribution in the World War II.
After the research, those blacks who had received the Distinguished Service Cross award were recommended to be upgraded and be awarded the Medal of Honor. In this post, we will highlight some African-American soldiers who received the Medal of Honor as well as point out the exact wars they participated in.
Christian Fleetwood
Fleetwood was born on July 21st, 1840 in Baltimore, Maryland. He underwent his early education and later graduated from Ashmun Institute (currently Lincoln University) in Oxford in 1806. In August 1863, the American Civil War disrupted trade with Liberia which forced Fleetwood to join the 4th Regiment United States Colored infantry, Union Army.
He was given the position of a Sergeant upon appointment and was later promoted to Sergeant Major due to his educational background. He was awarded the Medal of Honor on April 6th, 1865 for his brave action of seizing the American flag after two flag bearers were shot down. He further carried the bodies of the two soldiers throughout the fight during the Battle of Chaffins Farm.
Dennis Bell
Dennis Bell was born on December 28th, 1866 in Washington D.C. He was serving as a Private in Troop H of the 10th Calvary Regiment in 1898. He was awarded the Medal of Honor on June 23rd1899 because of his outstanding action of voluntarily going behind enemy lines to save his wounded colleagues in one of the most dangerous missions ever attempted during the Spanish–American war.
William Henry Johnson
Henry was born on July 15th, 1892 in North Carolina. He was among the United States Army soldiers who performed well in the first African-American unit of U.S. Army to participate in World War I. On May 14th, 1918, during a watch in Argonne Forest, he was attacked by a team of Germans whom he fought using grenades, butt of his rifle, bolo knife, and his fists. He managed to kill multiple Germans and saved a fellow soldier despite attaining several serious wounds during the ordeal.
William Henry died on July 1929. Despite dying at an early age, his contribution was recognized with a Medal of Honor which was presented to Commander Sgt. Maj. Louis Wilson by President Barack Obama on June 2nd, 2015.
Sources:
https://en.wikipedia.org/wiki/List_of_African-American_Medal_of_Honor_recipients
https://en.wikipedia.org/wiki/Christian_Fleetwood
https://en.wikipedia.org/wiki/Dennis_Bell_(Medal_of_Honor)
https://en.wikipedia.org/wiki/Henry_Johnson_(World_War_I_soldier)