On February 1, 1893 the search for 4-year-old Myrtle Vance, a little white girl began. She was the daughter of a police officer who was known for the mistreatment of his prisoners. At about 2 o'clock on that Friday afternoon, a mass meeting was called at the courthouse. Captains appointed people to help aid in the search for the little girl. When the 4-year-old was found she was mangled beyond recognition, covered with leaves, and bushes.  #Henry Smith, a #black man, was accused of the murder and molestation of the little girl. Smith had previously been beaten by the little girl's father and arrested for being drunk. He was also known for being the neighborhood handy man and black town drunk.
Smith was continuing on with his daily life. He had know idea that something had happened to the little girl.  But, many of the towns people said, they saw Smith with the young girl earlier during the day she went missing. When Smith heard that the all-white mob was looking for him, he fled to his hometown, Hope, Arkansas.
Railroads put up bulletins offering free transportation for all people who helped with the search and return of Smith. People arrived from all over the state to help in the search. Men mounted up on horses and headed in every direction possible. No stone was to be left unturned in the search for Smith. It was not long before Smith was tracked down, apprehended, and transported back to Paris, Texas.  When Smith was questioned about the murder and molestation, he denied having anything to do with it.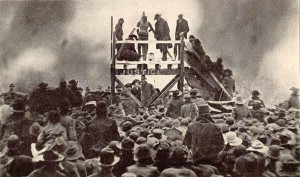 Later, he was put in a scaffold and tortured for nearly an hour by members of the child's family. The family forced hot iron brands into Smith's flesh; they started with his feet and legs until they worked upward to his head. The family members involved included: Myrtle's father, uncles, and her twelve-year-old brother. An article in the New York Sun on February 2, 1893 stated, "Every groan from the fiend, every contortion of his body was cheered by the thickly packed crowd." Eventually, the hot irons were thrust into his eye sockets and down his throat. Afterwards, finding he was still breathing, the crowd poured oil on him and set him on fire. The crowd then fought over the hot ashes to collect his bones and teeth as souvenirs. On February 7 1893, Henry Smith's stepson, William Butler, was lynched outside of Paris. He was an upstanding citizen, but hanged because it was believed he knew all along of Smith's whereabouts.
Whether Henry Smith committed the crime is still unknown. But, one thing is for sure, young Myrtle Vance lost her life, along with a man who was never proven guilty of the crime with an investigation or evidence.
source:
http://www.worldheritage.org/articles/Henry_Smith_(lynching_victim)
https://en.wikipedia.org/wiki/Henry_Smith_(lynching_victim)
http://www.zydecoonline.com/dev/index.php?name=News&file=print&sid=465