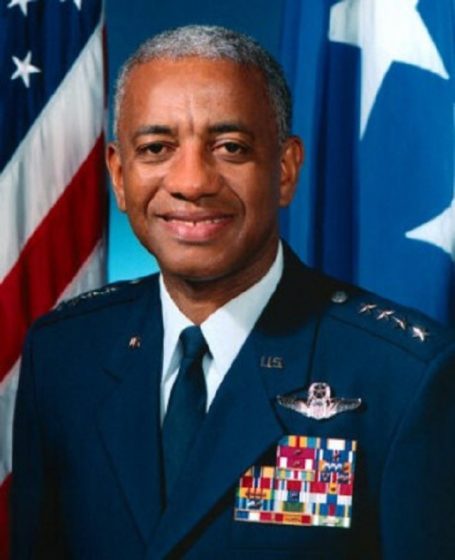 In 1974, Lloyd "Fig" Newton became the first black person to perform as a pilot with the U.S. Air Force Aerial Demonstration Team, the Thunderbirds. He took the opportunity left by others who flew in World War II and used it to his advantage. Newton held several positions with the elite performance group including advance coordinator, narrator, slot pilot and right wing.
Newton was a native of Ridgeland, South Carolina. He graduated from Jasper High School in 1961. And later earned a bachelor's degree in aviation education from Tennessee State and master's degree in public administration from George Washington University. He also completed three military post-graduate courses.
The nickname "Fig" was bestowed on the general during his senior year of college by a classmate, Howard Baugh, the son of the ROTC detachment commander at Tennessee State.
General Newton completed pilot training at Williams Air Force Base in Arizona in 1967. He was assigned to George Air Force Base shortly after to undergo training in the F-4 Phantom preparatory to serve in Vietnam. During the Vietnam war, Newton flew 269 combat missions, including 79 over North Vietnam from Da Nang Air Base. After his tour was complete, he was assigned to the 405th Tactical Fighter Wing, at Clark Air Base in the Philippines. He returned to the United States in 1974, he became an instructor in F-4s at Luke Air Force Base, Arizona and then one of the legendary Thunderbirds.
At the completion of his tour with The Thunderbirds, General Newton transitioned with F-16 fighters at MacDill Air Force Base, Florida. He was later assigned to the 8th Tactical Fighter Wing, Kunsan Air Base, South Korea, as assistant deputy commander for operations. General Newton was a command pilot with more than 4,000 flying hours. He commanded the 71st Air Base Group and 71st Flying Training Wing. He was decorated with the Legion of Merit wit oak leaf cluster, Distinguished Flying Cross with oak leaf cluster, and several others.
sources:
https://scaaonline.com/?hall-of-fame=general-lloyd-w-fig-newton