Oliver W. Hill was an African American attorney and civil rights activist. As the lead attorney for the Virginia State Conference of the National Association for the Advancement of Colored People (NAACP), Hill and his colleagues filed more legal challenges to segregation than any other lawyers.
Hill was born in Richmond, Virginia. His father, William Henry White Jr., abandoned his mother Olivia Lewis White Hill shortly after Hill was born. Because his worked at the Homestead Resort in Hot Springs, Virginia during the spring and fall seasons, and a related resort in Bermuda during the winter, Oliver was raised by his maternal grandmother and aunt. When Oliver was six years old, his mother Olivia Hill returned to Richmond for her mother's funeral, and introduced Oliver to her new husband, Joseph Cartwright Hill.
In 1916, Hill moved with his mother and stepfather to Washington, D.C., where Joseph Hill worked at the Navy Yard during the First World War. Oliver was in the sixth grade, but he did not like the D.C. elementary school he attended for a semester. He was allowed allowed to return to Roanoke, Virginia to live with his foster parents, the Pentecosts. In 1923, further education being unavailable to him in Roanoke, Hill moved to Washington D.C. to attend (and graduate from) Dunbar High School, which at the time may have offered the best education available to black children in the country.
After earning his undergraduate degree in 1930, Oliver attended Howard law school. There, Hill was a classmate and close friend of future Supreme Court Associate Justice Thurgood Marshall, although they were leaders of the rival Omega Psi Phi and Alpha Phi Alpha fraternities. Both studied under Charles Hamilton Houston, the chief architect in challenging Jim Crow laws through legal means. Marshall graduated first in his law school class in 1933, and Oliver White Hill second.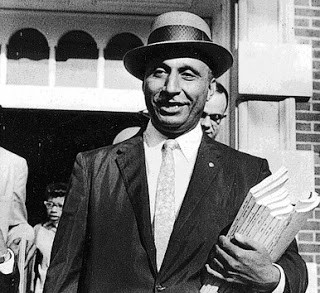 sources:
http://www.thehistorymakers.com/biography/oliver-w-hill-39