Ruth Simmons was the 18th president of Brown University, the first black president of an Ivy League institution. Simmons was elected to the position in 2000. In 2001, Ruth Simmons made history when she became the first African-American president of an Ivy League university, as well as Brown University's first female president. Prior to this appointment, she served as the first African-American female president of a major college or university when she took the reins at Smith College in 1995.
Simmons grew up on a sharecropping farm in Grapeland, Texas. She was the youngest of 12 children. She acknowledged that her mother had the greatest influence on her life, even though she did not have a formal education. She taught her children with many stories of those who had faced bigotry with courage.
After completing her early education, she attended Dillard University on a scholarship and spent her junior year at Wellesley College. While at Wellesley, she had an eye-opening experience after an encounter with President Margaret Clapp, who made her aware of the possibility of women in leadership.
Simmons graduated Dillard in 1962. She studied in France on a Fulbright fellowship and went on to earn a Ph.D. in Romance languages from Harvard. In 1983, after serving as associate dean of the graduate school at the University of Southern California, Simmons joined the Princeton University administration. In 2001, she became the first African-American president of an Ivy League university, Brown University, a position she held until 2012 when she stepped down.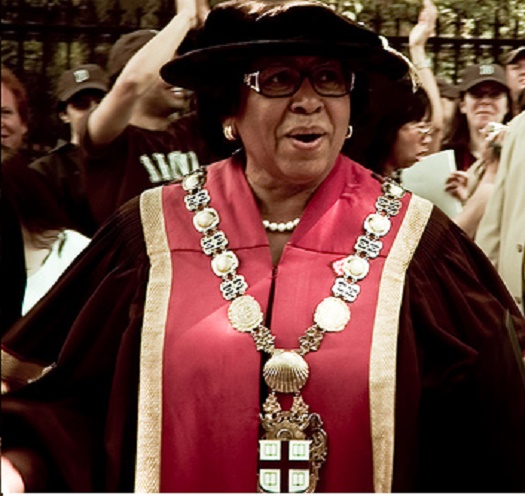 sources:
http://myhero.com/hero.asp?hero=r_simmons
https://en.wikipedia.org/wiki/Ruth_Simmons