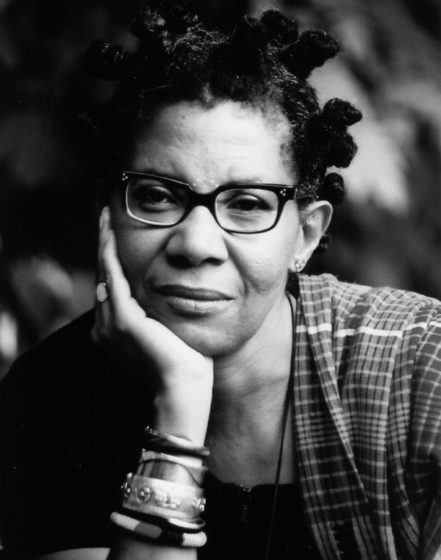 Marlene Nourbese Philip, who publishes under the name M. NourbeSe Philip, is the influential author of several novels, stories, essays and plays surrounding the politics of gender, race and language.
Philip was born in 1947 on the Caribbean Island of Tobago. Her family was considerably wealthy for Black people living in the British-controlled Caribbean; her grandmother had been a plantation owner, and her father was a school principal. Ironically, she was named after the white German film star Marlene Dietrich. She later added the middle name Nourbese, an African name meaning "marvellous child." When she was eight, her family moved to the nearby island of Trinidad.
She attended Bishop Anstey High School, where she was awarded a Cipriani Memorial Scholarship for scoring first in a Caribbean-wide examination at the high school level. This scholarship enabled her to study at the University of West Indies, in Kingston, Jamaica, where she received a bachelor's degree in economics.
In 1968, Philip moved to Canada, where she earned a master's degree in political science and a law degree from Western University in London, Ontario. She practiced law in Toronto for a nearly a decade.
Philip has also taught at the University of Toronto, taught creative fiction at the third-year level at York University and has been writer in residence at McMaster University and University of Windsor.
Her 2008 work, Zong! is based on a legal decision at the end of the 18th century, related to the notorious murder of Africans on board a slave ship.
source:
https://en.wikipedia.org/wiki/M._NourbeSe_Philip