Martha Hudson was best-known for her athletic skills on the track.  Hudson was born in 1939 in Eastman, Georgia. She was the oldest of three children to a housewife and truck driver. Hudson's athletic career began in elementary school where she first played as a guard for the school's basketball team. However, Hudson had the natural instinct to run, she could often be found racing the young boys in her neighborhood and winning most of the time.
Hudson attended Twin City High School and a physical education teacher first noticed her running ability. Her physical education teacher encouraged her to concentrate on track instead of basketball.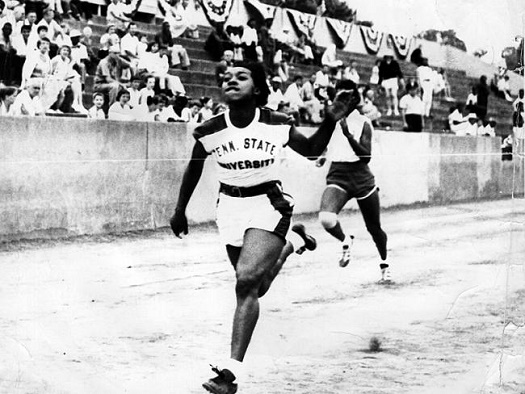 During the Tuskegee Relays in Alabama, Hudson, who was only 4 feet 10 inches tall, caught the eye of Edward Stanley Temple, a track coach at Tennessee State University in Nashville for forty-four years. At Temple's invitation, Hudson took part in his summer track clinics from 1955 through 1957, outrunning some of the legendary coach's Tigerbelles.
In 1957,  she graduated from high school as salutatorian of her class, and she accepted a scholarship to Tennessee State. While at TSU, Hudson (nicknamed "Pee Wee" by a teammate) won the national AAU 100-yard dash, set the 75-yard dash record, and came in second in the 50-yard dash. One of her biggest wins came during the 1960 Olympic Games in Rome, Italy, where she ran the first leg of the 400-meter relay against competitors who were all at least six inches taller than Hudson.
Hudson graduated from TSU in 1962 with a degree in elementary education. She later moved back to Georgia where she married and raised her family. She was inducted into the Tennessee State University Hall of Fame in 1983 and the Georgia Sports Hall of Fame in 1986.
sources:
http://www.georgiaencyclopedia.org/articles/sports-outdoor-recreation/martha-hudson-b-1939
Ennis, Lisa A. "Martha Hudson (b. 1939)." New Georgia Encyclopedia. 19 April 2016. Web. 25 July 2016.
A. D. Emerson, Olympians against the Wind: The Black American Female Difference (New York: distributed by Welcome Rain, 1999).