Lumpkin's Jail was located in what is now called the Historic Shockoe Bottom in Richmond, Virginia. The sunken jail was known as "The Devil's Half Acre" because it was a holding pen, a punishment and "breaking" center for more than 300,000 enslaved men and women, and the slaves inside the pen would have felt hemmed in and trapped. On a wet December day, the site was described as being a deep, raw pit pocked with mud puddles, with an old, brick retaining wall that divided the bottom. By the time an enslaved person left the holding pen, they "knew their place."
The pen was owned by slave dealer Robert Lumpkin, who was known as a "bully trader." The jail was the largest antebellum slave-trading site outside of New Orleans. Lumpkin died shortly after the Civil War. He had fathered five children with a black woman named Mary, who was a former slave and acted as his wife, she even took his name.
Anthony Burns, the escaped slave who, after fleeing Virginia, was recaptured in Boston and returned to Richmond under the Fugitive Slave Act, was confined in Lumpkin's jail for four months in 1854 until Northern abolitionists purchased his freedom. According to an account Burns gave for a biography, the slave was isolated in a room "only six or eight feet square," on a top floor accessible by a trapdoor
Years later, Mary Lumpkin, the African American widow of Richard Lumpkin, leased the property to the Reverend Nathaniel Colver, who founded a Baptist seminary. He would hold classes in Lumpkin's Jail. By 1876, large industrial buildings later took over the site. Its history was largely forgotten until 2005, when archeologists began the first phase of an investigation that eventually found evidence of the complex, including the original jail building buried nearly fifteen feet beneath the modern ground level.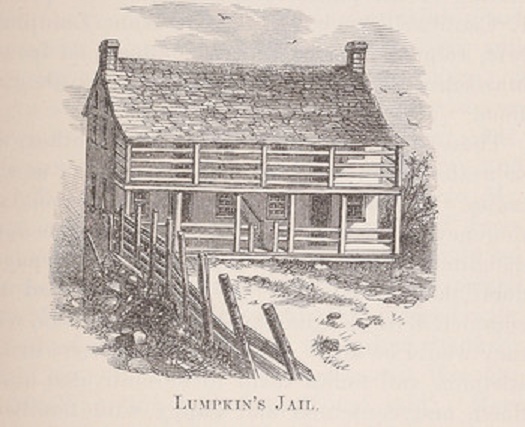 sources:
http://www.richmondgov.com/CommissionSlaveTrail/documents/historyLumpkinJail.pdf
The Excavation of Lumpkin's Jail
http://www.encyclopediavirginia.org/Lumpkin_s_Jail