Mildred Blount was widely recognized as a leading milliner in the 1930s and the 1940s. Blount was most noted for her hat creations for celebrities and people in high society. Her interest in millinery grew while working at Madame Clair's Dress and Hat Shop in New York City as an errand girl. Her love for millinery led to her opening a dress and hat shop with her sister.
Blount was born in North Carolina, but was orphaned as an infant. She attended Cooper Union in New York City, but did not complete her studies due to falling ill. She was also a recipient of the Julius Rosenwald Fellowship. During World War II, Blount volunteered with the Red Cross and Los Angeles USO for four years.
Over the years, Blount enjoyed researching various styles of hats from past centuries to inspire her modern-day pieces. She designed 87 miniature hats, which represented styles from 1680 to 1937, at the New York World's Fair in 1939. After this exhibit, her career took off. She was asked to design hats for the films "Gone with the Wind" and "Easter Parade," making her the first black person to design hats for movie actors.
In the 1940s, Blount opened a hat shop in Beverly Hills, California. She designed hats for singers and actresses, such as Marian Anderson, Mary Pickford, Ginger Rogers and Rosalind Russell, among others. Blount also designed Gloria Vanderbilt's bridal veil for her first marriage in 1941. In 1942, one of her hats was featured on the cover of "Ladies Home Journal." She died in 1974 in California.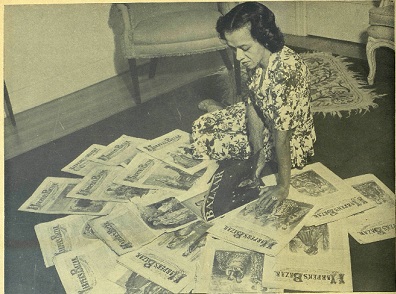 source:
http://blog.hrc.utexas.edu/tag/mildred-blount/