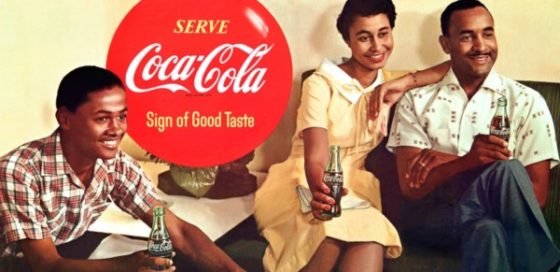 Mary Alexander became the first African American model for Coca-Cola in 1955.
In fact, it took Coca-Cola more than a half-century after the ads were produced to learn the identity of Alexander.
Alexander grew up on a farm in Ballplay a small community in the northeast corner of Alabama. She was one of 10 children and spent most of her days working in the fields.
After completing her primary education, Alexander became the second person in her family to attend college enrolling at Clark College in Atlanta. During her junior year, the housemother of her dorm approached her and explained that Coca-Cola was trying to recruit African-Americans for a new advertising campaign and suggested Mary try out. Having no modeling experience, Mary hesitated but agreed after the Dean insisted once more. She interviewed and was selected. She earned $600 total for approximately 15 ads, enough to pay for a full year of her college tuition.
While Alexander appeared in newspapers, magazines, billboards and New York subway stations, she eventually fell out of touch with The Coca-Cola Company. The ads marked both the beginning and end of her modeling career, though she would go on to achieve plenty of other firsts.
After college, she moved to Detroit to pursue a master's degree for a career in education. The job market was tough for an African-American woman in the midst of the Civil Rights Movement, but after nearly three years of applying to positions and working as a real estate secretary, Mary landed a position at Mount Clemons High School. The principal warned her that the school's population was mostly white and that she'd be their first African-American teacher.
She left Mount Clemons after three years to teach at Highland Park High School and eventually became the school's first female African-American principal. Years later, she was named the first female African-American director of vocational education for the state of Michigan.
sources:
Coca Cola Company