Miriam Matthews, often referred to as the Dean of Los Angeles Black History, became the first African-American librarian in California. Matthews was hired as a librarian by the Los Angeles Public Library in 1927.
Matthews was born in Pensacola, Florida in 1905, the second of three children born to Fannie Elijah and Reuben Hearde Matthews. At the age of two years old, her family moved to Los Angeles.
Matthews graduated high school in 1922, and spent two years at the University of California, Southern Branch (Los Angeles). She later transferred to Berkeley, where she earned her bachelor's degree in 1926 and a certificate in librarianship in 1927.
After completing her education, Matthews returned to Los Angeles. She found employment as a librarian in the Los Angeles Public Library. Although initially, she was misinformed about the date of the required Civil Service examination, she learned the correct date and passed the test. She was hired, first as a substitute librarian and three months later as a full-time librarian at LAPL's Robert Louis Stevenson Branch Library. While working at the Helen Hunt Jackson branch, Matthews discovered "a small collection of books on the Negro" and began building that into a substantial research collection documenting the contributions made by African Americans to California's history and culture.
Years later, Matthews took a leave of absence to earn a master's degree in library science from the University of Chicago Graduate Library School in 1945. After she returned to Los Angeles, she was promoted to regional librarian, supervising a dozen branch libraries. After more than three decades of employment, she retired from LAPL in 1960.
She was named to the California Heritage Preservation Commission, and in 1979 she played a key role in the establishment of an archive program for the city of Los Angeles. In 1996, Matthews moved to Mercer Island, Washington. She died in 2003.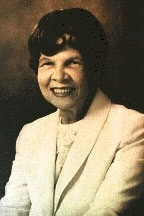 source:
http://www.blackpast.org/aaw/matthews-miriam-1905-2003
https://en.wikipedia.org/wiki/Miriam_Matthews