Rev. R.L.T. Smith has been dubbed "the minister of the Jackson civil rights movement."He was the pastor of several churches during the 1960s, including Mount Elam Baptist Church in Pearl, Mississippi, and New St. John Missionary Baptist Church.
The owner of two grocery stores and many rental houses, Rev. Smith provided bail for jailed demonstrators and participated in the U.S. district court case seeking to prevent the payment of tax dollars by the State Sovereignty Commission to the Citizens' Council.
In 1961, Rev. Smith was the first African American to run for Congress since Reconstruction when he challenged the incumbent John Bell Williams.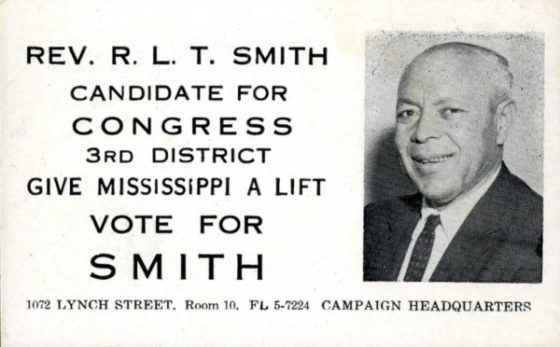 source:
http://www.mdah.ms.gov/timeline/zone/1962/