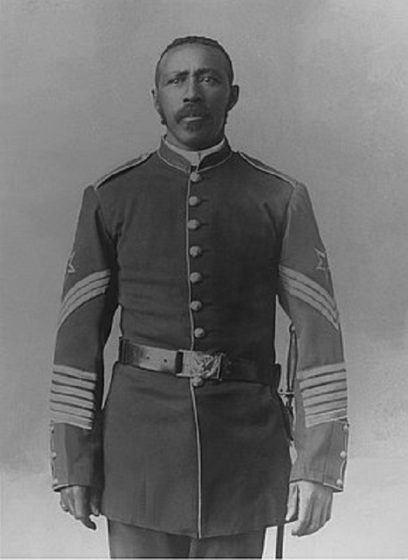 Moses Williams was joined the U.S. Army in 1866 and embarked on a thirty-one-year military career in the American West. While serving, he lead troopers of the 9th U.S. Cavalry's Buffalo Soldiers receiving the army's highest award, the Medal of Honor.
Williams was born in rural Louisiana in 1845. Little is known about his early life. His father and mother died while he was still an infant. His reputation as a skilled marksman was remarkable, considering what doctors diagnosed as "almost zero" vision in his left eye. Several of Williams's reenlistment documents list him as married with no children.
On October 1, 1866, Williams enlisted in the U.S. Army at the age of 21 years old for five years. He was assigned to Troop F, 9th U.S. Cavalry, one of the six all-African American cavalry and infantry regiments authorized by Congress that year. Williams served in remote posts in Texas, New Mexico, and Nebraska, with forays into Colorado and Oklahoma. He learned to read and write while also rebuilding posts, escorting supply trains, locating and returning stolen cattle, and fighting the Kiowa, Comanche, and Mescalero Apache.
At Nebraska's Fort Niobrara in 1885, Williams's commanding officers recommended him to the secretary of war for a coveted position as the post's ordnance sergeant. He would be responsible for "the care, of the ordnance, arms, ammunition, and other military stores." The appointment reflected Williams's distinguished record of service as a non-commissioned officer, his skill as a clerk, and "his general character as to fidelity and sobriety." It also removed him, after twenty years, from the demands of active field duty in lieu of a safer and more sedentary life of administrative responsibilities.
Williams's longest post assignment, as ordnance sergeant in 1886 at Fort Buford, North Dakota, lasted until the post closed. He arrived for duty at Fort Stevens on October 15, 1895, serving out the last three years of his career as that post's ordnance sergeant. It must have been a lonely duty, since he was the only soldier assigned to the post. Williams retired from the army on May 12, 1898. He moved to Vancouver, Washington, and listed his address as Vancouver Barracks. He died on August 23, 1899.
.
source:
https://oregonencyclopedia.org/articles/williams_moses/#.WonalOdG2M8