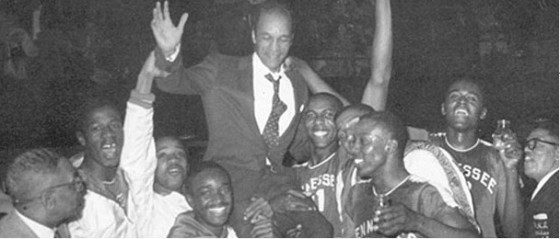 John B. McLendon, Jr. was a pioneering American basketball coach who is recognized as the first African-American basketball coach at a predominantly white university and the first African-American head coach in any professional sport.
McLendon Jr. was born in Hiawatha, Kansas to John Blanche McLendon and a college teacher, Effie Katherine McLendon. McLendon Jr. was part Delaware Indian and African -American from his mother's side. As a young child, his mother died in the 1918 flu pandemic, which would cause the temporary break-up of his family.  He along with his younger brother Arthur were sent to be with his Delaware Indian grandparents on a ranch near Trinidad, Colorado while his older sister, Anita, was sent to be with an aunt in Omaha, Nebraska, and his younger sister, Elsie, was sent to be with other relatives, but later ended up with a foster family on a ranch in Idaho. After his father remarried, all the siblings but the youngest were reunited. It would be 45 years before McLendon Jr. was reunited with his youngest sister.
McLendon Jr., attended Dunbar Elementary School and Sumner High School in Kansas, City. He found a passion for basketball in his early years and while in high school became an all-around athlete, although he never made the basketball team, he was involved in gymnastics and was the basketball team manager.
Once his primary education was completed, he attended Kansas Junior College, where he made the basketball team. The team was undefeated, but McLendon Jr., only played as needed.  He decided to transfer to the University of Kansas after completed one year at Kansas Junior College. While at the University of Kansas, he learned the intricacies of basketball from the sport's inventor, Dr. James Naismith, who was the athletic director at the school.  However, due to segregation McLendon Jr. was still not allowed to play on the team.
After graduation from college, McLendon Jr. went on to become a successful high school and college coach. He served as the coach for North Carolina College for Negroes (now North Carolina Central University, Hampton Institute (now University), Cleveland State University, and Kentucky State College (now University). In his early years, his teams were restricted to playing only against other all-black teams. However, while coaching at North Carolina College for Negroes, McLendon participated in "The Secret Game," a match against a team from Duke University, which was the first collegiate basketball contest where blacks and whites competed on the same floor. Under his direction, the Eagles were led to eight CIAA Championships.
At Cleveland State, he was the first African-American head coach of a predominantly white university. McLendon was a three-time winner of the NAIA Coach of the Year award. He also won three consecutive NAIA championships at Tennessee State, making him the first college basketball coach ever to win three consecutive national titles. John McLendon died on October 9, 1999.
Sources:
http://bleacherreport.com/articles/673434-fast-break-basketball-how-a-black-coach-revolutionized-the-game
http://www.nba.com/2013/news/features/isiah_thomas/02/08/isiah-thomas-john-b-mclendon-jr-african-american-pioneer/