"One Horse Charley" was an African Cowboy who was well-known across the state of Nevada. Known for his expertise as a rodeo rider, "One Horse Charley" reportedly never met a horse he could not ride.
Black cowboys were mostly free men after the Civil War. These men were drawn to the cowboy life because the lack of discrimination in the west. Not all of the black cowboys were free, there were some men who escaped from the plantations in Georgia and South Carolina.
The life of the black cowboy, who were merely known as "herders" at the time, was tougher than most. Ranchers and farmers/slave owners with large herds of cattle in the lower south were attracted to Africans from the Gambia and other countries who were skilled at managing animals.
During this time, ex-slaves swapped skills with the Vaqueros. They taught the Vaqueros how to control cattle, and the Vaqueros taught the former slaves the skills of horseback roping and riding. From this group, and the skills that resulted among them, came some of the best cowboys to work Texas ranches and ride the cattle trail northward.
Black cowboys broke the horses and herded the cattle across high waters. Many of the men ended up in the Seminole Indian Nation, as did One Horse Charley, and they later rode with the Seminoles to Oklahoma. One Horse Charley worked as a Bronco Buster who tamed wild horses. The purpose of taming the horses was to get the animals used to people and trained to pull wagons.
Although black cowboys played a significant role in the west, there is very little attention given to their existence today.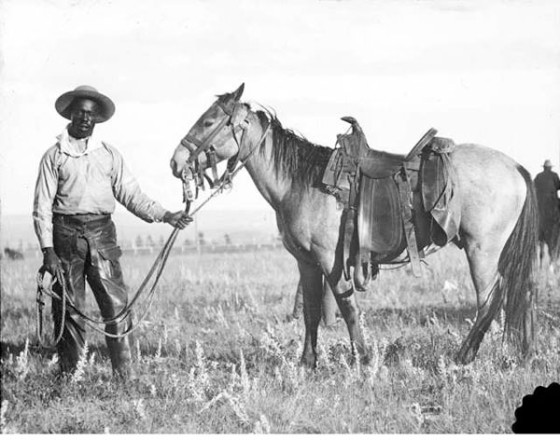 source:
http://horsehints.org/CowboysWorld/BlackOneHorseCharley.htm