Oney Judge Staines was a dower slave, the daughter of Betty, a seamstress, and Andrew Judge, a white English tailor who was an indentured servant at Mount Vernon in the early 1770s.  Much of Judge's story comes from her own recollection because she lived to an old age and was interviewed during the nineteenth century.
Judge had a half-brother, Austin, who was about fifteen years her senior. However, she was not recognized by Washington as being one of Judge's children.
She arrived at the manor house as a playmate for Mrs. Washington's granddaughter Nelly Custis. Judge learned needlework, and later served as a body servant to Mrs. Washington. She often accompanied Mrs. Washington on shopping trips and social visits.
In April 1789, Judge was one of seven enslaved Africans brought to New York City by the Washingtons to work in the presidential residence. With the change in the capital in November 1790, she was brought to Philadelphia, and probably shared a room with Nelly in the President's House. There are entries in the household ledger books for clothes for the teen-aged girl and trips to the circus. Philadelphia was a center of abolitionism, and had a large free black population. Oney made friends among the free blacks.
After the eldest granddaughter, Elizabeth Custis, of Mrs. Washington  married English expatriate Thomas Law on March 20, 1796. Washington invited the couple to visit Philadelphia and stay at the President's House. Mrs. Washington informed Judge that she was to be given as a gift to the bride.
Judge planned her escape with the aid of her free black friends. She slipped away one night in late May 1796 while the Washingtons were having dinner. She was hidden by her friends until she could find passage on a northbound ship. Judge either went directly to Portsmouth, New Hampshire, or arrived there by way of New York City.
Mrs. Washington would not believe that her young black slave betrayed her, she felt that she must have been abducted and seduced by a Frenchman. She wrote that Judge had always been well-treated, and even had a room of her own (Nelly was attending finishing school in Annapolis). The First Lady urged the President to advertise a reward for Judge's recapture, but Washington refused, realizing how unpopular that would be.
The Washington's tried to recapture Judge after being notified of her whereabouts by a longtime family friend. However, Judge remained a fugitive and was never returned to the Washington home. She eventually had three children, all of whom predeceased her, as did her husband. Because of the Fugitive Slave Act of 1793 which Washington signed into law in Philadelphia, she lived the rest of her life as a fugitive. Oney Judge Staines died in Greenland, New Hampshire on February 25, 1848.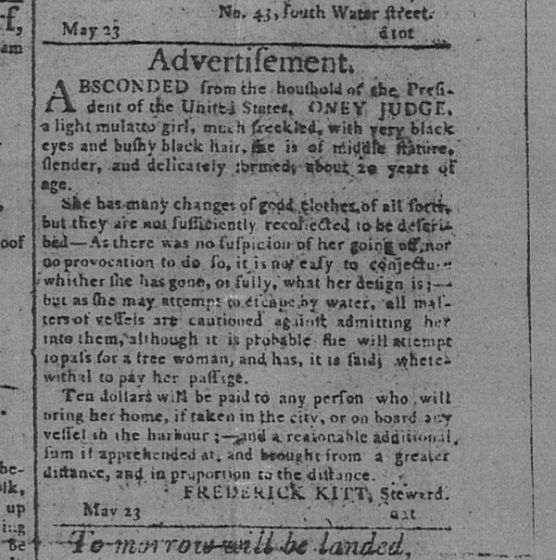 source:
http://www.mountvernon.org/digital-encyclopedia/article/oney-judge/