On September 28, 1868, the Opelousas Massacre occurred. Hundreds of Blacks in the Louisiana city lost their lives by the hands of whites, many of them who were Confederate veterans and prominent, well-known citizens.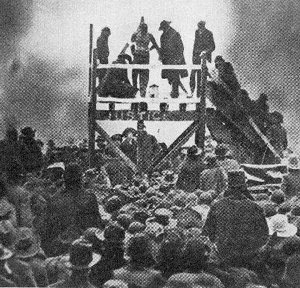 The Seymour Knights violently drove potential Black voters away from the Democratic Party, prompting White Republican reporter Emerson Bentley to write that Blacks should remain loyal to the Republican Party in local paper The Progress.
A school teacher by day, eighteen-year-old Bentley was beaten by three whites as a result of his article, which some in the town saw as an affront to the powers that be.
Reacting to Bentley's beating, local Blacks came to his rescue. The sheriff arrested 12, who were taken from jail and hung that night.
In the next few days, bands of armed whites scoured the countryside and killed Blacks in what was described as a "Negro hunt" similar to one which had occurred outside of Shreveport, Louisiana, a short time before. It is estimated that 200 blacks were killed in the fields and swamps surrounding Opelousas, Louisiana.
Twelve leaders of the Black Republicans who were seized were lynched the following day, which sparked a round of anti-Black violence throughout the region. It is estimated that close to 300 Blacks were killed as a result of the race riot.
source:
http://www.blackpast.org/aah/opelousas-massacre-1868
https://en.wikipedia.org/wiki/Opelousas_massacre