Venture Smith was born free in Africa but he was captured and enslaved at the age of eight. He became a figure of mythical proportions in New England and was known for having great size and strength.
Smith was named Broteer Furro by his father, a Prince of the tribe of Dukandaara in Guinea. He wrote that he descended from a very large, tall, and stout race of beings, much larger than most people who resided in other parts of the globe. Legend even had that he was a giant.
As a slave, Smith was sold over thirty times due to his size and unwillingness to cooperate with his slavemasters. However, he was later able to purchase his freedom around the year 1765, in his mid-thirties. He also purchased the freedom of his two sons, his daughter, his pregnant wife, and their unborn child. Solomon, the oldest son, died aboard a whaling ship, and the new baby was named Solomon in his honor. Cuff, the middle son, enlisted in the Continental army when he was in his early twenties. After the war, he returned to his family in East Haddam Neck, Connecticut.
In 1798, Smith dictated his life experiences. With the help of his family, it was printed by The Bee in New London, Connecticut. The narrative has been the subject of some contention, as it was regarded in many instances as "whitewashed" and inauthentic. It was suspected that the editor, who was white, manipulated Smith's story, a common practice among editors of slave narratives.
After four conferences and numerous scholarly papers, it was the conclusion of many scholars and the "Documenting Venture Smith Project" that the narrative was entirely Venture Smith's own words. Smith claimed that he was well over 6 feet, 1 1/2 inches tall, weighed about 300 pounds, and carried a 9-pound axe to chop trees. This is confirmed both by an archaeological project in 2007m and his runaway ad from 1754. Venture Smith died in 1805.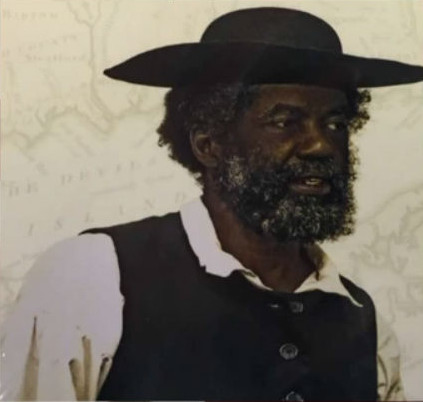 sources:
http://historymatters.gmu.edu/d/6536
http://connecticuthistory.org/venture-smith-from-slavery-to-freedom/