Ornette Coleman was one of the greatest saxophonists to share his music with the world. But not only was he one of the greatest saxophonists, he also was a trumpeter, violinist, and composer. Coleman was one of the major innovators of the free jazz movement of the 1960s.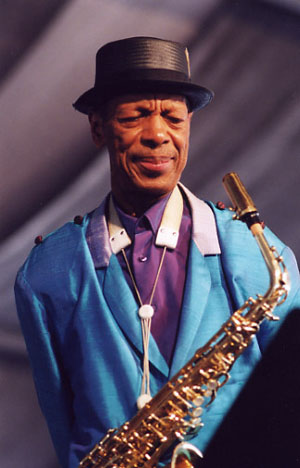 Coleman was born in 1930 in Fort Worth, Texas, where he was also raised.  He attended I.M. Terrell High School, where he participated in the school's band until he was dismissed for improvising. He began performing R&B and bebop initially on tenor saxophone, and started a band, the Jam Jivers, with some fellow students.
Looking for a way to escape his hometown, he took a job in 1949 with a Silas Green from New Orleans traveling show and then with touring rhythm and blues shows. He was assaulted after a show in Baton Rouge Louisiana and his saxophone was destroyed. He later switched to alto saxophone, which remained his primary instrument.
In 1958, Coleman led his first recording session for Contemporary, Something Else! The Music of Ornette Coleman. The session also featured trumpeter Don Cherry, drummer Billy Higgins, bassist Don Payne and Walter Norris on piano.
Coleman's unorthodox approach, emphasizing collective rather than solo improvisation, divided the jazz world. Detractors, including jazz giants Miles Davis and Charles Mingus, described his music as cacophony and called him a poseur.
The mid-1990s saw a flurry of activity from Coleman: he released four records in 1995 and 1996, and for the first time in many years worked regularly with piano players Geri Allen or Joachim Kühn.On February 11, 2007, Coleman was honored with a Grammy award for lifetime achievement, in recognition of this legacy.
On July 9, 2009, Coleman received the Miles Davis Award, a recognition given by the Festival International de Jazz de Montréal to musicians who have contributed to continuing the tradition of jazz. Coleman died in 2015.
source:
http://www.allmusic.com/artist/ornette-coleman-mn0000484396
https://en.wikipedia.org/wiki/Ornette_Coleman