Fred "Curly" Neal has been described as being one of the most magical dribblers and shooters in the history of basketball. Neal played in more than 6,000 games in 97 countries and was a key member of the Harlem Globetrotters from 1963 to 1985. Neal wore number 22 and played for 22 seasons.
Neal was born in Greensboro, North Carolina and attended Greensboro-Dudley High School. He went on to attend Johnson C. Smith University in Charlotte, North Carolina where he played basketball and averaged 23.1 points per game.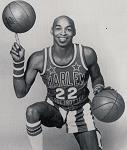 When Neal joined the Harlem Globetrotters in 1963, he shaved his head earning him the nickname "Curly" in reference to Curly Howard from the "Three Stooges." In the 1970s, an animated version of Neal starred with various other Globetrotters in the Hanna-Barbera animated cartoon Harlem Globetrotters as well as its spinoff, The Super Globetrotters. The animated Globetrotters also made three appearances in The New Scooby-Doo Movies. Neal himself appeared with Meadowlark Lemon, Marques Haynes, and his other fellow Globetrotters in a live-action Saturday morning TV show, The Harlem Globetrotters Popcorn Machine, in 1974–75, which also featured Rodney Allen Rippy and Avery Schreiber.
Neal's basketball jersey number 22 was retired in February 2008 in a special ceremony at Madison Square Garden; it was part of the "Curly Neal Weekend." Neal was the fifth Globetrotter in the team's 82-year history to have his number retired. He was  inducted into the North Carolina Sports Hall of Fame.
Neal is a recipient of the Harlem Globetrotters' prestigious "Legends" ring, presented to those who have made a major contribution to the success and the development of the Globetrotters organization. He has also been inducted into the Globetrotters' "Legends" ring on June 25, 1993."
source:
 https://en.wikipedia.org/wiki/Curly_Neal
http://www.harlemglobetrotters.com/harlem-globetrotter-legend/fred-curly-neal