Oze E. "Ozzie" Simmons was a college football player for the University of Iowa. Simmons was nicknamed the "Ebony Eel" and was one of the first black All-American football players in the 1930s.
Simmons was born in Gainesville, Texas, where he grew up and went on to play high school football in Forth Worth, Texas. He was an all-state football quarterback for a segregated school. College opportunities were limited for black players at the time, but an Iowa alumnus saw Simmons play and suggested that he go to the University of Iowa, as black students had participated in campus athletics, off and on, since 1895.
Simmons had not received the best education in segregated schools in Texas, so he spent his freshman year at the University catching up on his academics. However, by his sophomore year in 1934, he was ready to play football. He was the first-team All-Big Ten selection and a second team All-American.
In 1935, Simmons saw his best year. He scored five touchdowns on runs of 50 or more yards. Simmons scored the two touchdowns in a 12-6 upset of Colgate, and his touchdown pass to fellow black Iowa star Homer Harris were Iowa's only points in a loss to Purdue. His most memorable game that year was against Illinois, as rushed for 192 yards, intercepted a pass, returned three punts for 33 yards, returned two kicks for 54 more yards, and scored a touchdown, as Iowa beat Illinois 19-0.
Although Simmons was a phenomenal player, he was targeted because of his race by opposing players. He was often attacked, physically or otherwise, by other players. But the worst treatment happened during a game played against Minnesota, a team known for racism and harsh playing tactics; Simmons was knocked out of the game three times, and his injuries became severe to the point in which he could not play in the second half.
After college, Simmons became a physical education teacher in the Chicago public school system. He died in 2001 from complications from Alzheimer's and Parkinson's diseases.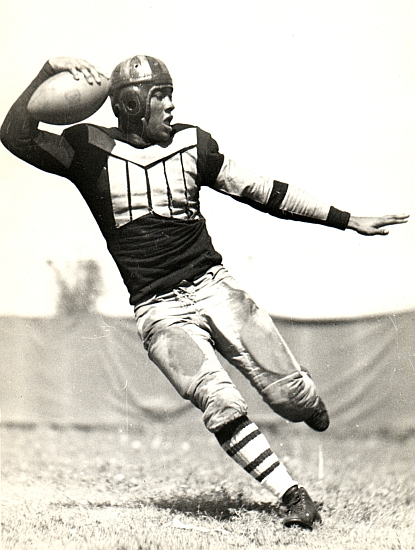 sources:
http://www.wow.com/wiki/Ozzie_Simmons