Photo provided by: Steven Jeffery Harris
In 2016, a Mississippi man who clinically was classified as a schizophrenic, while imprisoned for 11 years without trial, got cleared of murder accusations against him – after a long fight for justice was previously undertaken to gain his freedom.
According to a report from Mississippi's Clarion Ledger newspaper, in October of 2005, police found and arrested Steven Jessie Harris for the murder of his father, 72-year-old Malichi Randle, a veteran of the Korean War. Randle dedicated his life to protesting America's racist treatment of Black U.S. military members – who risked their lives only to come home from war and face systemic oppression.
Close observers of this case have whispered claims, which insinuate that Mr. Randle's staunch activism made him and his family targets of racist and terroristic acts – conducted by state and local officials in law enforcement, as well as groups sympathetic to the Ku Klux Klan. Clay County, Mississippi's Sheriff Eddie Scott made dubious accusations that Harris murdered his father prior to arriving at a Sonic Drive-in carrying a.22 rifle.
Scott also claimed that Harris carjacked a student from Mississippi State University, stabbed him, and abducted a female who was also in the student's vehicle. Allegedly, Harris gave pursuit to law enforcement in the car he was accused of stealing – along a freeway and eventually pulled over. From then, a gun battle reportedly ensued between Harris and law enforcement officers. According to Scott, as Harris opened fire, he wounded three deputies.
In 2006, a grand jury indicted Harris on many charges, including murder, three counts of aggravated assault on a policeman, two counts counts of aggravated robbery, two counts related to hostage taking, two counts of aggravated assault, and a single count of discharging a firearm into an occupied car.
The Clay County Detention Center was where Harris subsequently got taken into custody – after his alleged gun battle with officers. A psychiatric examination conducted on Harris in 2007 by a clinician working for the State Hospital at Whitfield indicated that Harris displayed signs of a serious psychiatric disorder – schizophrenia.
Physicians wrote a conclusive assessment on his competency to relinquish his rights or stand trial on April 13, 2008.
Prior to his election as Clay County District Attorney, Scott Colom declared in an interview with The Clarion-Ledger newspaper that the Harris case exemplified an illustrative judicial display, which revealed a miscarriage of justice. Harris endured severe violations of his constitutional rights during the 11 years he was incarcerated and denied a trial. Harris was sent to East Mississippi State Hospital in June of 2016.
This was the last stop he made before finally becoming a free man.
A Man Who is His Brother's Keeper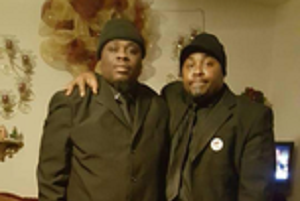 Steven Jesse Harris (left) and Steven Jeffery Harris (right)
The nightmare that almost took Steven Jesse Harris's life has finally ended. However, more is to be done.
During this ordeal, his twin brother, Steven Jeffery Harris (pictured) fought tooth and nail alongside the team, which advocated on his sibling's behalf for justice. On several occasions, Steven Jeffery Harris has spoken to me exclusively, concerning this case, in a series of communications through various means (phone calls, direct messages, emails, etc.). As of September 2022, new and shocking revelations in this ongoing legal battle have come to pass.
S. Jeffery Harris has described these developments as "historic." These developments may certainly clear the way towards justice by virtue of the case law books for a great many judicially violated people in the future, he said. Part 2 of BlackThen.com's "Eleven Years of Injustice: The Steven Harris Story" will feature a new interview with S. Jeffery Harris – a certified legal professional and the CEO of the 2nd Chance Initiative.
To learn more details about this case, click here.