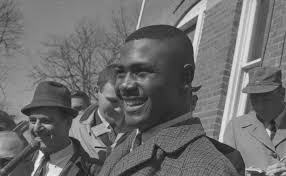 Harvey Bernard Gantt is an American architect and Democratic politician active in North Carolina. Gantt was the first African-American student to be admitted to Clemson University after attending Iowa State University.
Gantt was born in Charleston, South Carolina to Wilhelminia and Christopher C. Gantt, a shipyard worker. He started to participate in civil rights activism in high school. In 1963, he was the first African American to be admitted to Clemson University in South Carolina. He received a degree in architecture with Honors from Clemson and a Master's degree in City Planning from MIT.
Gantt entered local politics, where he was elected to the city council, serving from 1974 to 1983. He was elected to two terms as the first black Mayor of Charlotte from 1983 to 1987.
In 2009, the Afro-American Cultural Center and the City of Charlotte honored Gantt by building the Harvey B. Gantt Center for African-American Arts + Culture, recognizing his contributions to the civil rights movement and as the city's first black mayor.
In 2016, PBS Charlotte and UNC-TV featured Gantt in their online series, Biographical Conversations. In this series, Gantt recalls his life experiences, ranging from his attendance at Clemson University to his inauguration as Mayor of Charlotte, North Carolina.
source:
https://704shop.com/blogs/news/100182470-fact-friday-42-harvey-b-gantt