A Grain of Sand
by Frances Ellen Watkins Harper
Do you see this grain of sand
Lying loosely in my hand?
Do you know to me it brought
Just a simple loving thought?
When one gazes night by night
On the glorious stars of light,
Oh how little seems the span
Measured round the life of man.
Oh! how fleeting are his years
With their smiles and their tears;
Can it be that God does care
For such atoms as we are?
Then outspake this grain of sand
'I was fashioned by His hand
In the star lit realms of space
I was made to have a place.
'Should the ocean flood the world,
Were its mountains 'gainst me hurled
All the force they could employ
Wouldn't a single grain destroy;
And if I, a thing so light,
Have a place within His sight;
You are linked unto his throne
Cannot live nor die alone.
In the everlasting arms
Mid life's dangers and alarms
Let calm trust your spirit fill;
Know He's God, and then be still.'
Trustingly I raised my head
Hearing what the atom said;
Knowing man is greater far
Than the brightest sun or star.
Brief History
Frances Ellen Watkins Harper, a 19th century African American woman writer and abolitionist, was born to a free black family in a slave state, Maryland. Frances Watkins Harper became a teacher, an anti-slavery activist, and a writer and poet. She was also an advocate of women's rights and was a member of the American Woman Suffrage Association. The writings of Frances Watkins Harper were often focused on themes of racial justice, equality, and freedom.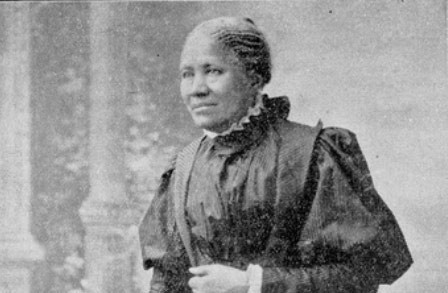 sources:
https://www.poetryfoundation.org/poets/frances-ellen-watkins-harper