During the early 1960s, the Freedom Singers from Georgia performed throughout the country. The group mainly performed in hope of raising money to help the Student Nonviolent Coordinating Committee (SNCC) and to spread awareness to their audiences about grassroots organizing. Most freedom songs were common hymns or spirituals familiar to the southern black community; the lyrics were often modified to reflect the political aims of the civil rights movement.
The Freedom Singers formed in December 1962 under the leadership of Cordell Reagon, who worked as the SNCC field secretary. He was also a veteran of the sit-in movement in Nashville, Tennessee. The original group of Freedom Singers consisted of four young black members, all under the age of 21: Cordell Reagon (tenor), Bernice Johnson Reagon (alto), Charles Neblett (bass), and Rutha Mae Harris (soprano). The first white member joined in 1965 as a guitarist, Bill Perlman.
Not long after the group was established, the singers decided to perform throughout the nation: over 50,000 miles in total throughout 40 states in a Buick station wagon. The group played just about everywhere: jails, living rooms, high schools, and rallies. They also performed at the March on Washington in August 1963.
The group recorded an album in 1963, but they later disbanded. In 1995, Rutha Mae Harris formed the Albany Civil Rights Museum Freedom Singers.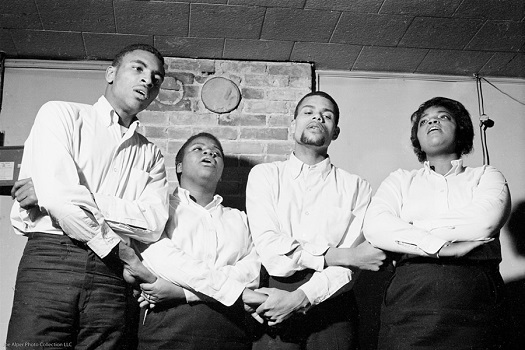 sources:
http://www.albanycivilrightsinstitute.org/index.php?option=com_content&view=article&id=22&Itemid=25
http://www.georgiaencyclopedia.org/articles/history-archaeology/freedom-singers