Rev. Jermaine Wesley Loguen was born around 1814 in Davidson County, Tennessee, to an enslaved mother named Jane (who was later renamed Cherry) and her white master, David Logue. He was originally named "Jarm Logue," he later added the "n" to his last name to differentiate himself from his slave-master father and adopted the middle name "Wesley" to reflect his Wesleyan Methodist sympathies.
When Loguen was in his early twenties, he escaped from slavery and fled to Canada. He eventually settled in New York state, where he enrolled in the abolitionist Oneida School in 1839, and later established a school in Utica, New York, for African-American children. He later moved to Syracuse, New York, in 1841, and there he founded another school and married Caroline Storum, with whom he had five children. Loguen was ordained by the African Methodist Episcopal (AME) Zion Church in 1842 and became involved with the anti-slavery movement. He worked with several other abolitionists.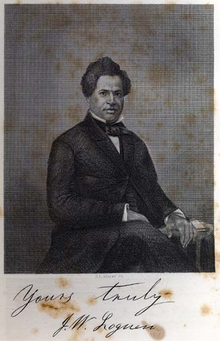 In 1848, Rev. Jermaine  Loguen purchased a plot of land in Syracuse for eight hundred dollars from Joseph and Sarah Chapman. He built a house on his land and a forty -by fifty-foot section was reserved to create a school for African-American children.
Rev. Loguen's home also became a safe house for fugitives traveling the "Underground Railroad." In collaboration with Harriet Tubman and Frederick Douglass, Rev. Loguen helped at least 1,500 fugitives as they traveled safely on their way to freedom in Canada, earning Loguen the nickname "The Underground Railroad King."
On October 1, 1851, Henry, known as "Jerry," was arrested under the Fugitive Slave Law. The anti-slavery Liberty Party was holding its state convention in the city, and when word of the arrest spread, several hundred abolitionists broke into the city jail and freed Jerry, which Rev. Loguen became a part of helping with the escape. The event came to be widely known as the Jerry Rescue.
Loguen had six children. His daughter, Amelia, married Lewis Douglass, the son of the famous abolitionist Frederick Douglass, in 1869.  Amelia (Helen Amelia) and Lewis followed in their parents' footsteps, passionate for justice and education for the enslaved and newly freed. Rev. Jermaine Wesley Loguen died in 1872.
source:
http://www.nationalabolitionhalloffameandmuseum.org/jloguen.html
https://en.wikipedia.org/wiki/Jermain_Wesley_Loguen