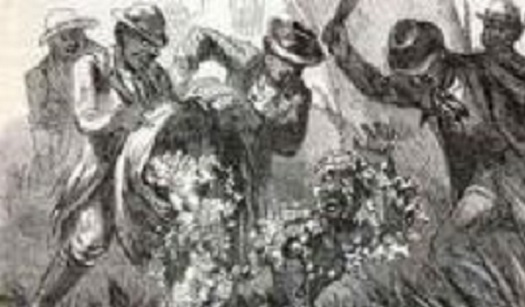 William G. Allen was an educated mix-raced man. However, many would say, he didn't know his place as a black man during his time. He fell in love and it just happened to be with a white woman, who just happened to be the daughter of a white minister in upstate New York.
The relationship between the couple later inspired a story written by author Louisa May Alcott about interracial love.
Allen was born in Virginia in 1820; he was the son of a free mulatto mother and a Welsh father. He was orphaned as a young boy and later adopted by a free black family.
At an early age, he was recognized for being highly intelligent, and later Gerrit Smith a philanthropist sponsored his education at the Oneida Institute. At the time the school was a progressive interracial school located in Upstate New York.
Allen excelled at his studies and graduated in 1844. He was then hired as editor of the National Watchman, a temperance and abolitionist paper for African-Americans. He also worked as a clerk for the Boston law firm of Ellis Gray Loring. In 1849, he was the second black college faculty member at New York Central College in 1849.
The Reverend Lyndon King's daughter, Mary King, attended New York Central College. Allen began to court King in secret.  Allen asked for her hand in marriage the proper way at the time, however, King's mother and brother were dead set against the union. The only person who half-heartedly approved was Reverend King.
But Reverend King's blessing did not last long. Once word began to get out across the city about the couple, Rev. King switched his views and banished Allen from coming back around to his home. Allen and Mary planned a trip to visit friends in nearby Phillipsville, and when word got out the couple would be in the area, an angry mob formed there "with tar, feathers, poles, and an empty barrel spiked with shingle nails" which was all intended for Allen. King was removed and taken safely, but the crowd went after Allen, beating him, throwing tar and feathers while tearing at his clothing, and yelling obscenities.
Eventually, Allen was able to escape the mob, and the couple was able to flee to England. Allen struggled to find work as a lecturer and writer, authoring The American Prejudice Against Color: An Authentic Narrative, Showing How Easily the Nation Got into An Uproar (1853) and A Personal Narrative (1860), both memoirs of the prejudice he encountered in America.  However, the couple faced severe hardship with their seven children. They lived in a boarding house and had to rely on the donations of others and help from friends.  The Allens died in obscurity with no record of their final days left behind.
Sources:
http://www.pbs.org/wgbh/pages/frontline/shows/jefferson/mixed/nash.html
http://www.blackpast.org/aah/allen-william-g-1820