Roscoe Dunjee is best-known as a prolific journalist and civil rights activist. Dunjee was born in 1883 to Rev. John William Dunjee, a Baptist minister, and Lydia Ann Dunjee.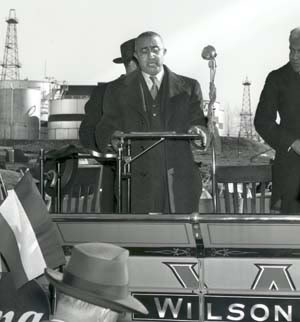 Dunjee founded his own African-American newspaper, the Black Dispatch, in 1915.  The paper ran until 1954 and was used as a resource to fight against segregation and unfair treatment of African-Americans. The paper regularly reported the violent lynchings of unsuspecting victims in Oklahoma and Texas. Dunjee also focused on fighting against voting laws throughout the states.
He was active in the NAACP, the Oklahoma Youth Legislature, the National Negro Democratic Association, and the Negro Business League. Dunjee's activities, along with those of other civil rights leaders were instrumental in eliminating segregation in the public schools and other areas of ethnic group interaction.
Dunjee also played a vital role in desegregating Oklahoma State University in 1948. Roscoe Dunjee was inducted into the Oklahoma Journalism Hall of Fame in 1971. He died in 1965.
sources: