Dominique Margaux Dawes is noted as being the first African-American woman to win an individual Olympic medal in artistic gymnastics. She is also the first black person of any nationality or gender to win an Olympic gold medal in gymnastics.
Dawes was born in Silver Spring, Maryland, on November 20, 1976, to Don and Loretta Dawes. She has an older sister, Danielle, and a younger brother, Don Jr. Dawes, who also participated in the Olympic games.
She attended Montgomery Blair High School in Silver Spring, Maryland, and Gaithersburg High School in Gaithersburg, Maryland, where she was the 1994 prom queen. She later graduated with a Bachelor's degree from the University of Maryland, College Park, and ultimately pursued work in acting, modeling, and television production after her Olympic career came to an end.
Dawes' love for gymnastics began at the young age of six, when she signed up to be a part of a tumbling class. When she showed up, the class was canceled, and someone suggested to her parents that she try a local gymnastics club called Marva Teens. Dawes signed up for classes at Hill's and began working with Kelli Hill, who would go on to coach her for her entire career.
By the age of 10, she was already competing as a junior elite. She placed 17th in the all-around junior division at her first U.S. National Championships in 1988. In 1989, at the age of 12, she was sent to Australia to compete in her first international competition, the Konica Grand Prix. By the early 1990s, Dawes was achieving success both nationally and internationally. She placed 3rd in the all-around in the junior division at the 1990 U.S. National Championships.
Dawes placed 4th at the 1992 Olympic trials and was awarded a place on the United States Olympic team. Despite battling very painful tendinitis in both ankles and Osgood-Schlatter disease during pre-Olympic training, Dawes performed respectably throughout the competition, even having the boldness to try a brand-new move in her balance beam routine in the team competition.
Dawes struggled through a difficult 1995, she suffered with severe wrist and ankle injuries. She finished 4th at Nationals, and was forced to sit out the World Championships that year.
However, on the team with the Magnificent Seven in 1996, Dawes claimed her gold medal as part of the first American team to take the Olympic title. Another first, she became the first black woman of any nationality to win an Olympic gold in gymnastics.
Dawes was inducted into the International Gymnastics Hall of Fame as well as the USA Olympic Hall of Fame, along with the Magnificent Seven. She also received the 2008 AAUW Women of Distinction Award.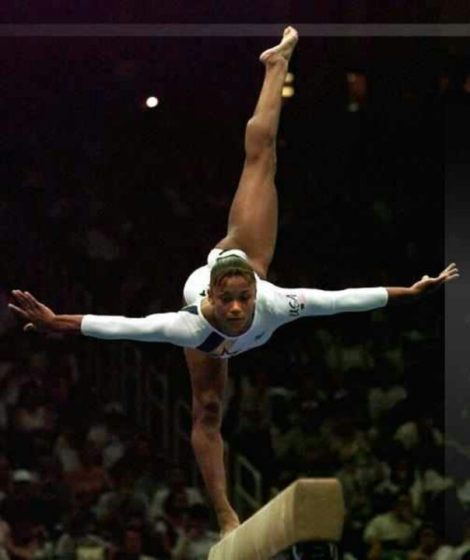 source:
http://www.dominiquedawes.com/