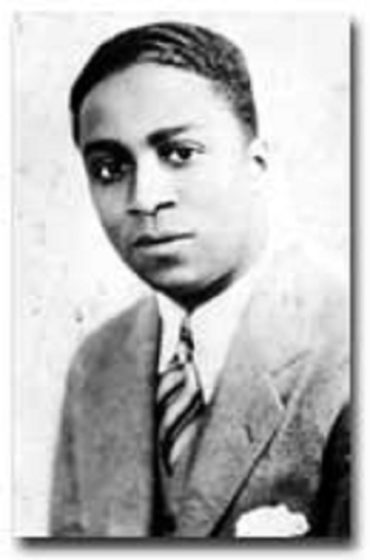 Rudolph Fisher was a physician, roentgenology (radiologist) specialist, novelist, short story writer, dramatist, musician, and orator.
Fisher was born in Washington, DC on May 9, 1897 and reared in Providence, Rhode Island. His parents, John Wesley Fisher, a clergyman, and Glendora Williamson Fisher had three children.
Fisher's short life was filled with academic, oratorical, and literary accomplishments. In 1915, he graduated from Providence's Classical High School with honors. Four years later (1919), he graduated from Brown University with a BA major in English and biology, receiving honors in the latter discipline. A year later he received an MA from Brown.
During his time at Brown, Rudolph's public speaking skills did not go unnoticed. He won the first Caesar Misch Premium (in German) in his freshman year; first prize in the Carpenter Prize speaking Contest in his sophomore year; the Dunn Premium in his junior year; and he delivered one of the three orations at his commencement program. Representing Brown, in 1917, he won first prize at an intercollegiate public speaking contest at Harvard.
He was also elected to the Phi Beta Kappa, Delta Sigma Rho, and Sigma Xi honorary fraternities. In 1924, Fisher graduated from the Howard University Medical School with highest honors.
Fisher met his future wife, Jane Ryder, a graduate of Miner's Teachers College and a grade-school teacher, while in Washington. They met in 1924 and married a year later. Their only son, Hugh, was born in 1926. Rudolph wittily gave his son the nickname, "the new Negro."
As a Renaissance figure, Fisher is most noted for his literary works, but he was an accomplished musician. In fact, he was responsible for arranging a number of songs for Paul Robeson's first New York concert.
Rudolph Fisher is considered one of the major or key literary figures of the Renaissance. He was an active and dominant part of the black literary Bohemia that dominated black literature in the 1920s and early 1930s.
Fisher wrote two acclaimed novels in his life. In the first, The Walls of Jericho (1928), he presents a cross section of black life in Harlem. He features the pretentious "dickties," the earthy "rats," and the various white visitors who frequent the black ghetto. In Conjure-Man Dies (1932), he created the first black detective story. Fisher's fiction gave the reader glimpses of the ordinary blacks living and working in their community. Rudolph Fisher died on December 26, 1934.
sources: