While thousandaires and athletes have chosen to date "others" it seems that more and more wealth men (notice I didn't say rich) are dating women of color. Billionaire Ben Horowitz was said to have been quoted as saying  "Billionaires prefer black women, they are loyal and guard your interests. Black wives are for grown ups" which led me to research billionaire men dating black women. So don't worry women. Your skin may not be light enough to snag a rapper, but you can still snag a billionaire business man. Just remember that to attract a billionaire you have to be Educated, have you own career/interests and have ambition.
Check out these beautiful black women and the men who love them: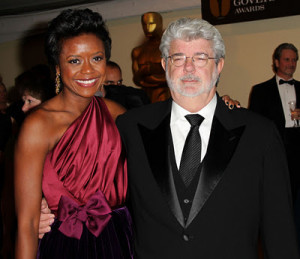 Famed billionaire director of the Star wars movies George Lucus net worth 3.9 billion
Janet Jackson and Wissan Al Mana who has a net of 4.5 billion dollars
Russian billionaire tycoon Vladimir Doronin and Supermodel Naomi Campbell

Billionaire Peter Norton of Norton security software corp with wife Gwen Adams
Billionaire business mogul Richard Branson and Kelly Rowland
David Bowie & Iman
Prince of Liechtenstien Maximilian and Princess Angela Brown
Tyra Banks is reportedly dating Iranian billionaire Shervin Pishevar, an early investor in the $3.5 billion e-hailing company Uber.
Not quite a billionaire, Eve's husband Max is an entrepreneur, skateboarder and race car driver worth about $50 million.
Not quite a billionaire but South Park co-creator Matt Stone has a net worth of $300 million
Not quite a billionaire but Robert De Niro is worth $185 million
Read more: http://www.balleralert.com/profiles/blogs/billionaire-says-black-women-are-for-grown-ups#ixzz3blUCXruB