St. Josephine Bakhita was born to a wealthy family in Sudan in 1869. The name of her birth parents were never known. St. Josephine Bakhita often experienced terrible humiliation physically and morally, as a result of being kidnapped by slave traders at the age of 7. She was re-sold in the slave markets of El Obid and of Kartoum. She was soon given the Bakhita, which meant "the lucky one," Which was such a terrible irony at that point in Bakhita's life.  However, in the capital of Sudan, she was purchased by an Italian consul and unlike her other slave experiences she was treated cordial and not whipped. When political situations took the consul and his friend, a Mr. Augusto Michieli, back to Italy, Bakhita was taken as well. Once in Italy, she stayed with Mr. Michieli and his wife, becoming both babysitter and friend to their new daughter, Mimmina.
While Mimmina was being schooled, Josephine felt drawn to the Catholic Church. She was baptized and confirmed in 1890, taking the name Josephine. When the Michielis returned from Africa and wanted to take Mimmina and Josephine back with them, the future saint refused to go. During the ensuing court case, the Canossian sisters and the patriarch of Venice intervened on Josephine's behalf. The judge concluded that since slavery was illegal in Italy, she had actually been free since 1885.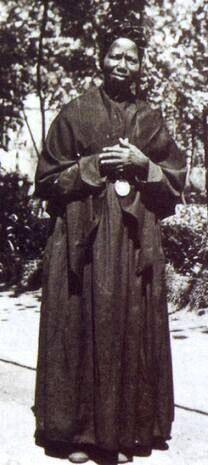 Bakhita recalled her most terrifying moments as a slave woman was marked by a process resembling scarification and tattooing.  Her mistress watched her with a whip in her hand, white flour, salt, and a razor were brought in by another woman. The mistress and woman used the flour to draw patterns on her skin and then cut deeply along the lines on the skin before filling the wounds with salt to ensure permanent scarring. A total of 114 patterns were cut into the breasts, belly and her right arm. Josephine entered the Institute of St. Magdalene of Canossa in 1893 and made her profession three years later. In 1902, she was transferred to the city of Schio (northeast of Verona), where she assisted her religious community through cooking, sewing, embroidery and welcoming visitors at the door. She soon became well loved by the children attending the sisters' school and the local citizens. Bakhita died at 8:10 PM on 8 February 1947. For three days her body lay on display while thousands of people arrived to pay their respects.
source:
http://www.vatican.va/news_services/liturgy/saints/ns_lit_doc_20001001_giuseppina-bakhita_en.html