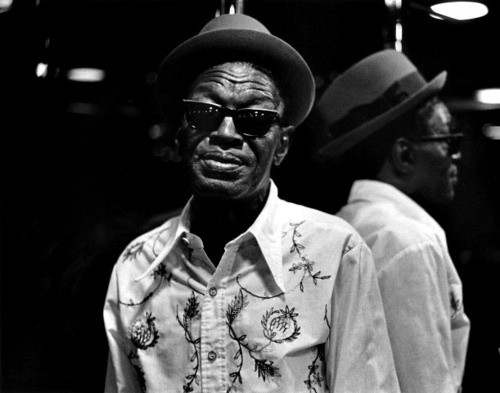 Sam John "Lightnin" Hopkins was a country blues singer, songwriter, guitarist, and occasional pianist.
Hopkins was born in Centerville, Texas on March 15, 1912. As a child, he often became mesmerized and immense by the sound of the blues. Growing up, he developed a deep appreciation for the sound of music. He learned how to play the guitar  from one of two distant cousins, one whom he recorded with years later.
Hopkins accompanied Blind Lemon Jefferson on guitar at informal church gatherings. During that time, Jefferson reputedly never let anyone play with him except Hopkins. It was during these sessions, Hopkins learned a lot about music and performing for audiences.
In the mid-1930s, Hopkins got into trouble with the law and was sent to Houston County Prison Farm; the offense for which he was imprisoned is unknown.
After serving his time, Hopkins moved to Houston in an unsuccessful attempt to break into the music scene. By the early 1940s, he was back in Centerville, working as a farm hand. However, something in him would not allow him to give up on the blues. So, he took a second shot at Houston in 1946. It was during this time, he was discovered by Lola Anne Cullum from the Los Angeles–based Aladdin Records.
Hopkins later traveled to Los Angeles, where he accompanied the pianist Wilson Smith. The duo recorded twelve tracks in their first sessions in 1946. An Aladdin executive decided the pair needed more dynamism in their names and dubbed Hopkins "Lightnin" and Wilson "Thunder." It has been estimated that he recorded as many as a thousand songs throughout his career.
He made his debut at Carnegie Hall on October 14, 1960, alongside Joan Baez and Pete Seeger, performing the spiritual "Mary Don't You Weep". In 1960, he signed with Tradition Records. In 1968, Hopkins recorded the album Free Form Patterns, backed by the rhythm section of the psychedelic rock band 13th Floor Elevators.  Hopkins died on January 30, 1982, at the age of 69.
sources:
http://www.allmusic.com/artist/lightnin-hopkins-mn0000825208/biography
http://www.chron.com/news/houston-texas/article/Bluesman-Lightnin-Hopkins-to-be-honored-with-1704632.php