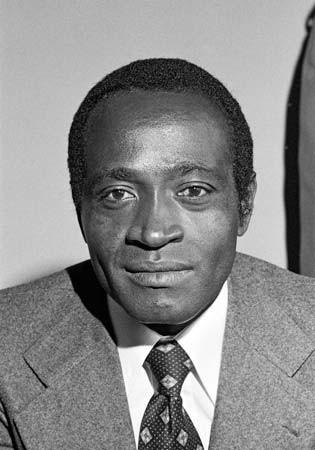 Ferdinand Léopold Oyono was an African statesman, actor, and comic writer whose two best-known works are Une Vie de boy (1956; Houseboy) and Le Vieux Nègre et la médaille (1956; The Old Man and the Medal). Oyono's first book, Houseboy, is written in the form of a diary. It depicts honesty but with humor the often brutal life of a houseboy in the service of a French commandant. Oyono's novels were written in French in the late 1950s and were only translated into English a decade or two afterward.
Oyono was born near Ebolowa in the South Province of Cameroon. After obtaining his secondary education in Yaoundé, Oyono studied in Paris. Oyono worked in Paris as an actor on stage and on television.
Upon his return to Cameroon, Oyono entered the diplomatic corps, becoming special envoy in 1961–62 to Guinea, Mali, Senegal, and Morocco. Between 1963 to 1975, he served as ambassador to Liberia, the Benelux countries, the European Common Market, France, Italy, Tunisia, Morocco, and Algeria.
Oyono later served the United Nations (UN) as chairman of the Security Council, of the UNICEF Board, of the Security Council's Political Committee, and of the Council on Namibia. After serving as ambassador to the United Kingdom (1984–85), Oyono returned to Cameroon to take various posts in the cabinet.
In 1985, President Paul Biya called Oyono from London and appointed him as Secretary-General of the Presidency of Cameroon. Oyono remained in the post for about a year before Biya instead appointed him as Minister of Town Planning and Housing in 1986.  Ferdinand Léopold Oyono died in 2010.
sources:
https://www.britannica.com/biography/Ferdinand-Leopold-Oyono