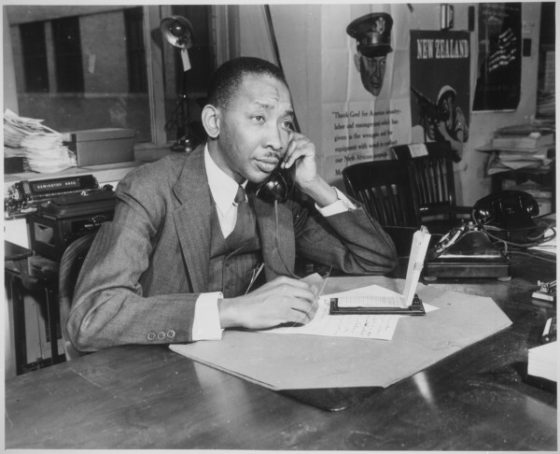 Ted Poston was the first African American journalist to work at a mainstream newspaper.
Poston was born on July 4, 1906, in Hopkinsville, Kentucky. His mother, Mollie Cox, died when he was ten and he was raised mostly by his eight older siblings, while his father, Ephraim, taught at the Kentucky State Industrial College for Negroes (now Kentucky State University) in Frankfurt, which was located over two hundred miles away.
By the age of fifteen, Poston had begun his career writing articles for his family's paper, the Hopkinsville Contender. He graduated from Tennessee Agricultural and Industrial College (now Tennessee State University) in 1928 and moved to New York to pursue a career in journalism.
Upon his arrival in New York, he found work as a reporter for the Amsterdam News in Harlem in 1928. Years later, he became editor of the paper. Shortly after his promotion Poston led an attempt to unionize his fellow reporters and instigated a strike. He was fired because of his activities. Following his dismissal, he held a series of odd jobs until he was temporarily hired by the New York Post in 1936, making him only the third African American to be hired as a reporter for a major New York City daily paper.
Poston remained at the New York Post for the next thirty-five years. However, while working there, he also engaged in "race work," the effort to improve the lives of African Americans. He became part of the famed "black cabinet," an informal group of African American policy advisors to President Franklin Roosevelt in the 1940s. Poston provided vital information to black newspapers across the nation in the campaign to integrate the defense industry workforce.
Ted Poston married three times, to Miriam Rivers in 1935, Marie Byrd Jackson in 1941, and, for the last time in 1957 to Ersa Hines Clinton. His third wife became a leading official in the administration of New York Governor Nelson Rockefeller. He died in 1974 in New York City and was buried in his hometown of Hopkinsville. He was sixty-seven years old.
source:
http://www.kentuckynewera.com/web/news/article_43e5f56c-cb9f-11e4-8d73-43e15c695593.html