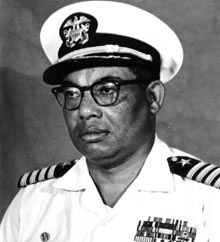 Samuel L. Gravely, Jr. was the first African-American officer to become an admiral in the United States Navy. During his 38 years in the military, Gravely distinguished himself as a naval communications expert, war and peacetime ship captain.
Gravely was on June 4, 1922, in Richmond, Virginia, to Mary and Samuel L. Gravely, Sr. After high school, Gravely attended Virginia Union University, but left to join the Naval Reserve in 1942.
After receiving basic training at Naval Station Great Lakes, Illinois, Gravely entered the V-12 Navy College Training Program at the University of California, Los Angeles. After graduating from UCLA, he completed Midshipmen's School at Columbia University and was commissioned an ensign on November 14, 1944. His commission came only eight months after the "Golden Thirteen" became the first African-American officers in the U.S. Navy.
Gravely career began with him being the only black officer aboard the submarine chaser USS PC-1264, which was one of two U.S. Navy ships (the other being USS Mason (DE-529)) with a predominantly black enlisted crew. Before June 1, 1942, African-Americans could only enlist in the Navy as mess men; PC-1264 and Mason were intended to test the ability of blacks to perform general Navy service.
Many of the achievements that Gravely achieved became "first" for African-Americans. He was the first black officer to command a U.S. Navy ship, the first black officer to command a combat ship, and he also became the first black officer to reach the rank of captain and rear admiral. During Gravely's final tour of duty, which began in 1978 until his retirement in 1980, he served as Director of the Defense Communications Agency. As Director, he oversaw the communications network linking Washington, D.C. with allied bases throughout the world. Altogether, Gravely served 38 years in the Navy. He died in 2004.
sources:
http://military.wikia.com/wiki/Samuel_L._Gravely,_Jr.
http://www.blackpast.org/aah/gravely-samuel-lee-1922-2004