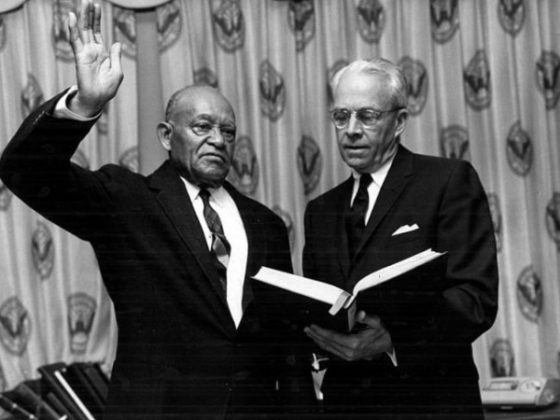 A. T. Walden was a highly respected attorney, a civil rights leader, and one of the New South's first black political power brokers.
As one of the few black lawyers in Georgia during the civil rights era, Walden litigated civil rights cases to help equalize pay for black teachers in Georgia. Having won the lawsuits that helped to desegregate the Atlanta public schools and the University of Georgia, Walden earned a national reputation as a civil rights lawyer.
Walden was born in Fort Valley on April 12, 1885, to former slaves Jennie Tomlin and Jeff Walden. He attended Fort Valley High and Industrial School and was the lone graduate of the class of 1902. He received a bachelor's degree from Atlanta University (later Clark Atlanta University) in 1907 and a law degree from the University of Michigan Law School in 1911. He began practicing law in Macon in 1912. In June 1917 he joined the army and during World War I (1917-18) served as a captain and assistant judge advocate.  He received an honorable discharge from the military in February 1919 and that same year moved his law practice to Atlanta. In 1948, Walden founded and was president of the Gate City Bar Association.
Walden was a member of the Atlanta and American Bar associations and litigated cases in all levels of the court system of Georgia as well as in the U.S. Supreme Court. He also served as legal counsel for Citizens Trust Company, and Mutual Federal Savings and Loan Association.
Walden began his political life as a Republican, serving as chair of the Republican Party executive committee from the fifth congressional district of Georgia. In 1940 he switched to the Democratic Party and remained active with that party for the next twenty-five years. In recognition of the importance of voter participation and the need to increase black registration, he became a founder and cochair of the nonpartisan Atlanta Negro Voters League and leader of the All-Citizens Registration Committee.
Walden retired and opened a nonprofit community counseling office in 1963. The following year, Mayor Ivan Allen Jr. appointed him to serve as judge of the Atlanta Municipal Court, making Walden the first black judge in Georgia since Reconstruction. Walden, the "dean" of black lawyers in Georgia, died on July 2, 1965.
source:
original article found at:
https://www.georgiaencyclopedia.org/articles/history-archaeology/t-walden-1885-1965