The race riot of 1906 made international headlines and threatened Atlanta's image as a thriving New South city. On September 22, 1906 newspapers reported alleged assaults on four white women by black men. After the report white angry men gather in the streets of Atlanta, Georgia with the intentions of attacking and killing every black man they found. The emergence during this time of a black elite in Atlanta also helped contribute to racial tensions in the city. As the black elite gained wealth, education, and prestige, its members attempted to distance themselves from an affiliation with the black working class, and especially from men with no jobs and frequented the saloons on Atlanta's Decatur Street. The white people were against these saloons as well.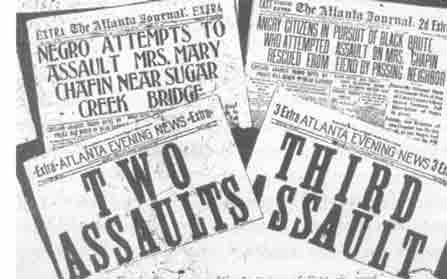 The mobs seized street cars, trapped black male drivers and passengers beating, shooting and killing them. Armed white men chased black men through white-owned businesses, hotels, hallways, and anywhere else they came in contact with them. The mob attacked black-owned businesses, smashing the windows of black leader Alonzo Herndon's barbershop.
The police and firemen were called in to diffuse the situation, but failed to get the situation under control. The state militia was then summoned, and streetcar service was suspended. The mob showed no signs of letting up; however, the crowd did disperse once a heavy rain began to fall the militia was then able to get the city under control.
Atlanta's Mayor at the time James Woodward, wanted to know what he could do to help the situation, the solution that the white mob wanted was to have the cause removed. As long as the black men were assaulting white women, so the mob believed there would be no rest for the city. Woodward's inconsistency empowered the white mobs and the massacre continued. For a total of four days, black people were chased, beaten, shot, and hung throughout Atlanta and its surroundings. When black citizens of Brownville, a nearby suburb, attempted to arm themselves in defense, Georgia troops raided their homes, taking weapons and arresting those in possession of them. After four days of riots, between 25 and 40 people were dead and countless more were injured.
source:
Mixon, Gregory, and Clifford Kuhn. "Atlanta Race Riot of 1906." New Georgia Encyclopedia. 29 October 2015. Web. 07 December 2015.–http://www.georgiaencyclopedia.org/articles/history-archaeology/atlanta-race-riot-1906
http://originalpeople.org/atlanta-race-riot-1906/