Hattie Canty, a labor activist in Las Vegas, Nevada has often been called "one of the greatest strike leaders in U.S. history.
Canty grew up in Alabama before moving to California, marrying and starting a family. Following high school, she married and had two children. When she and her husband divorced, Canty moved with her children to San Diego where she worked as a housekeeper and cook.
By 1961 Canty had remarried and moved with her family to Las Vegas. She stayed home to take care of ten children while her husband worked for Silver State Disposal. In 1972, she went to work as a maid at the Thunderbird Hotel. After the death of her husband in 1975, Canty was left at age forty-one to raise the eight children still living at home. Now the sole support for her family, she worked as a janitor and then as a maid in private homes. Needing health insurance for herself and her children, she found employment in 1979 at the new Maxim hotel-casino, first as a maid and then as a uniformed attendant.
Canty became involved in the Culinary Workers Union 226, an affiliate of the Hotel Employees and Restaurant Employees International Union. She was elected to the executive board in 1984, the year that Local 226 staged a successful seventy-five-day walkout against Las Vegas casinos in an effort to gain better health insurance benefits for culinary workers. She wanted to ensure that all workers would receive living wages in order to support themselves and their families. She also sought to integrate the union and see minorities attain higher level jobs.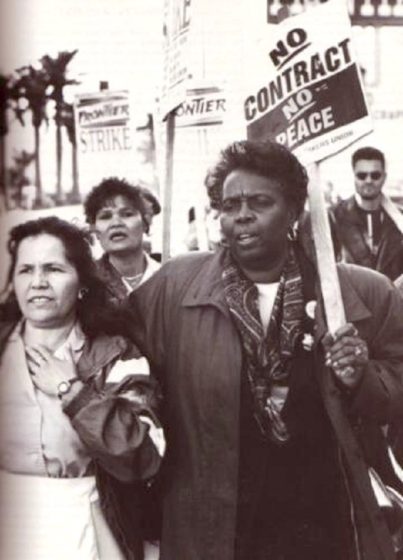 source:
http://www.onlinenevada.org/articles/hattie-canty