BY WALTER OPINDE 
During the 1960 Olympics Games, Wilma Rudolph broke the historical records for becoming the first American woman and the first African-American to ever win three gold medals in track and field at a single Olympics, held in Rome, Italy.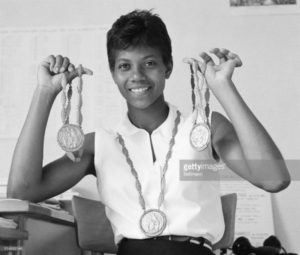 Wilma Rudolph Glodean was an American sprinter from Clarksville, Tennessee, who became a world-record holder in Olympic championship and the international sports icon in track and field following her successes in the 1956 and 1960 Olympic Games. Wilma Rudolph competed in the 200-meter dash and won a bronze medal in the 4 × 100-meter relay during the 1956 Summer Olympics at Melbourne, Australia. As well, she won three gold medals in the 100-meter and 200-meter individual events, alongside the 4 x 100-meter relay at the 1960 Summer Olympics held in Rome, Italy.
Wilma Rudolph was born prematurely on 23rd June, 1940, in St. Bethlehem, Tennessee. She was the 20th of 22 children born to Blanche and Ed Rudolph. She grew on to become a pioneering African-American track and field champion. However, the road to Wilma's victory was not that smooth. She was stricken with double pneumonia, scarlet fever, and polio during her childhood. These introduced Wilma to the problems with her left leg, which prompted her to wear a brace. It was with great determination and the help of physical therapy that she was able to overcome her disabilities. Brought up in the segregated South, Rudolph attended the all-black Burt High School, where she played on the basketball team. She was a naturally gifted runner, making her be recruited to train with Tennessee State University track coach Ed Temple.
Wilma was celebrated for being the fastest woman in the world in the 1960s. She became the first female American to win three gold medals in a single Olympic Games. According to the global television coverage of the 1960 Summer Olympics, Wilma became an international star, besides other Olympic athletes, including Clay Cassius (famously known as Muhammad Ali), Robertson Oscar, and  Johnson Rafer, all of whom competed in Rome, Italy.
As an Olympic champion in the early 1960s, Wilma was among the most highly visible black women in America and abroad. She became a star and a role model for the black community as well as the female athletes worldwide. Her success in the 1960 Olympic helped elevate women's track and field in the United States. Aside from games, Wilma was also regarded as a civil rights and women's rights advocate.
By 1962, Wilma Rudolph retired from competition at the peak of her athletic career as the world's record-holder in the 100-meter and 200-meter individual events, and the 4 × 100-meter relay. After competing in the 1960 Summer Olympics, she graduated from Tennessee State University in1963, thereby becoming an educator and a coach. Her achievements are memorialized in a variety of tributes, including documentary films, the U.S. postage stamps, a made-for-television movie, as well as in several publications, particularly books for youths, teenagers, and childhood readers.
She died on November 12, 1994, in Brentwood, Tennessee, after losing a battle with brain cancer.
Read more of Wilma Rudolph's story via:
http://www.nytimes.com/1994/11/13/obituaries/wilma-rudolph-star-of-the-1960-olympics-dies-at-54.html
http://www.aaregistry.org/historic_events/view/wilma-rudolph-hall-fame-sprinter
Sources
Streissguth, Tom (2007). Wilma Rudolph. Turnaround Publisher.
Schraff, Anne E. (2004). Wilma Rudolph: The Greatest Woman Sprinter in History. Enslow Publishers.
Plowden, Martha Ward (1996). Olympic Black Women. Tennessee State University Library: Pelican Publishing Company.
Krull, Kathleen. Wilma Unlimited: How Wilma Rudolph Became the World's Fastest Woman, Harcourt * Children's Books; Library Binding edition (April 1, 1996)