The real "Lone Ranger," it turns out, was an #African American man named Bass Reeves, who the legend was based upon. Perhaps not surprisingly, many aspects of his life were written out of the story, including his ethnicity. The basics remained the same: a lawman hunting bad guys, accompanied by a Native American, riding on a white horse, and with a silver trademark.
Historians of the American West have also, until recently, ignored the fact that this man was African American, a free #black man who headed West to find himself less subject to the racist structure of the established Eastern and Southern states.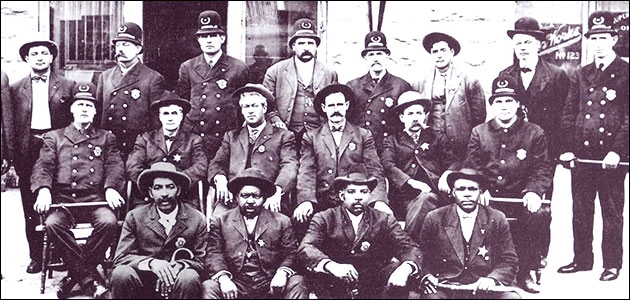 While historians have largely overlooked Reeves, there have been a few notable works on him. Vaunda Michaux Nelson's book, Bad News for Outlaws: The Remarkable Life of Bass Reeves, Deputy U.S. Marshal, won the 2010 Coretta Scott King Award for best author. Arthur Burton released an overview of the man's life a few years ago. Black Gun, Silver Star: The Life and Legend of Frontier Marshal Bass Reeves recounts that Reeves was born into a life of #slavery in 1838. His slave-keeper brought him along as another personal servant when he went off to fight with the Confederate Army, during the Civil War.
Reeves took the chaos that ensued during the war to escape for freedom, after beating his "master" within an inch of his life, or according to some sources, to death. Perhaps the most intriguing thing about this escape was that Reeves only beat his enslaver after the latter lost sorely at a game of cards with Reeves and attacked him.
After successfully defending himself from this attack, he knew that there was no way he would be allowed to live if he stuck around.
Reeves fled to the then Indian Territory of today's Oklahoma and lived harmoniously among the Seminole and Creek Nations of Native American Indians.
read more —
http://politicalblindspot.com/the-real-lone-ranger-was-an-african-american-lawman-who-lived-with-native-american-indians/