In 1973, Patricia Bath became the first African American to complete a residency in ophthalmology. She moved to California the following year to work as an assistant professor of surgery at both Charles R. Drew University and the University of California, Los Angeles. In 1975, she became the first female faculty member in the Department of Ophthalmology at UCLA's Jules Stein Eye Institute.
In 1976, Bath co-founded the American Institute for the Prevention of Blindness, which established that "eyesight is a basic human right." By 1983, Bath had helped create the Ophthalmology Residency Training program at UCLA-Drew, which she also chaired—becoming, in addition to her other firsts, the first woman in the nation to hold such a position.
Inventing the Laserphaco Probe
In 1981, Bath began working on her most well-known invention: the Laserphaco Probe (1986). Harnessing laser technology, the device created a less painful and more precise treatment of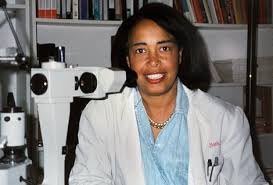 cataracts. She received a patent for the device in 1988, becoming the first African-American female doctor to receive a patent for a medical purpose. (She also holds patents in Japan, Canada and Europe.) With her Laserphaco Probe, Bath was able to help restore the sight of individuals who had been blind for more than 30 years.
In 1993, Bath retired from her position at the UCLA Medical Center and became an honorary member of its medical staff. That same year, she was named a "Howard University Pioneer in Academic Medicine."
Among her many roles in the medical field, Bath is a strong advocate of telemedicine, which uses technology to provide medical services in remote areas.
via Patricia Bath – Biography – Doctor, Inventor, Educator – Biography.com.