That hand is not the color of yours, but if I pierce it, I shall feel pain. If you pierce your hand, you also feel pain. The blood that will flow from mine will be the same color as yours. I am a man. God made us both.  – Chief Standing Bear

As young Michael Evans on the sitcom "Good Times" used to say, "Boy, is a white racist word." Here is why the term when referred to black men is viewed upon as racist.
In the United States and Africa, the term "boy" was used as an insult towards black men and slaves by white racists. Used during slavery and the Jim Crow era to indicate black men were of lower social status and less than a man, this word is demeaning today.
Blacks were not viewed as full-fledged people, but as mentally, physically, and spiritually inferior beings to whites. In order to survive, it was essential for black men to mask their masculinity. They had to become invisible, yet visible examples of the racial rules that white society expected them to be, the "good  ole' boy."
I am an invisible man. No, I am not a spook like those who haunted Edgar Allan Poe; nor am I one of your Hollywood-movie ectoplasms. I am a man of substance, of flesh and bone, fiber and liquids—and I might even be said to possess a mind. I am invisible, understand, simply because people refuse to see me.
                                                                                                   —Ralph Ellison, Invisible Man (1952)
During the Jim Crow era, "I AM A Man" became a declaration of civil rights, which has often been used as a personal statement and declaration of independence. The catchphrase has been turned around to use in protest for equality many times. During the Dred Scott decision of the U.S. Supreme Court, the question "Am I Not a Man? was raised. It was also used during the Memphis Sanitation Strike in 1968, part of the African-American Civil Rights Movement. Black workers carried signs that read "I AM A MAN!" answering the question "Am I Not A Man?"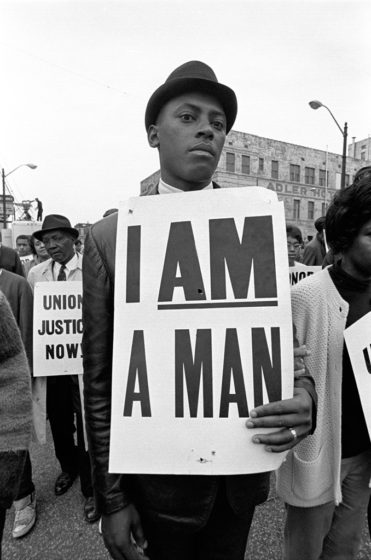 sources:
http://www.uncpress.unc.edu/browse/page/320
http://www.theroot.com/articles/politics/2010/08/court_of_appeals_rules_the_term_boy_is_not_racist.html