African-American civil rights leader Vernon Ferdinand Dahmer, Sr., was president of the Forest County chapter of the NAACP in Hattiesburg, Mississippi. Born on March 10, 1908, in Forrest County, Mississippi, he was the son of Ellen Louvenia Kelly and George Dahmer. His mother was born to a white slave owner and one of his slaves.
Young Dahmer attended Bay Spring High School where he received a tenth-grade education. He had a light complexion and could easily pass for white, but he decided to face the daily challenges of being a black man in Mississippi.
Dahmer married three times. His first wife was Winnie Laura Mott; their marriage of five years ended in divorce. In 1949, Dahmer married Aura Lee Smith, who ultimately passed away after a long illness. Ellie Jewel Davis was his third and final wife, a teacher from Rose Hill, Mississippi. The couple met after working on the school board together and married in March 1952.
Dahmr was the owner of a grocery store, sawmill, and also cotton farm. He was also a very involved member of Shady Grove Baptist Church and served as a music director and Sunday School teacher. During the Civil Rights Movement, Dahmer went on to serve as president of the Forrest County Chapter of the NAACP, as he was known to treat people fairly regardless of who they were or the color of their skin.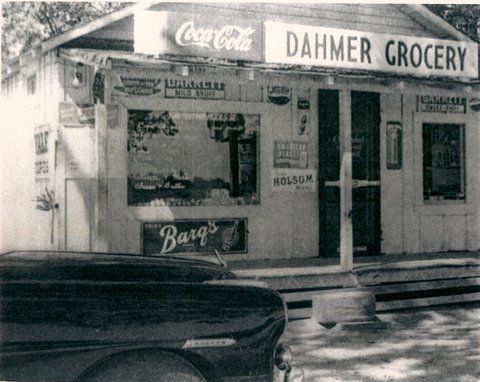 In 1949, Dahmer was in the process of filling out his new registration card when Luther Cox would not let him re-register. Cox, a white segregationist, was the authority figure in charge of registered voters in Forrest County. He would only authorize a registration of an African American if they could answer the question "How many bubbles are in a bar of soap?"
Leaders in the local black community, including Dahmer, got together and filed a lawsuit against Cox. Dahmer's testimony helped demonstrate the pattern of discrimination in the county by Cox. During the 1950s, Dahmer and Medgar Evers founded a youth NAACP chapter, but it shut down within a year. Dahmer was known to keep a voter registration book in his grocery store in the late 1960s to make it easier for African Americans to register.
One night, the Dahmer household was attacked one night while the family was sleeping. Although the family had a shotgun by their nightstand, the White Knights of the Ku Klux Klan managed to attack the home. Gunshots were fired at the home and gas jugs were thrown through the windows. The family managed to escape, but both Dahmer and his wife were burned.
Dahmer did not survive his injuries. He died at the hospital, but prior to his passing, he spoke to news reporters:
"I've been active in trying to get people to register to vote. People who don't vote are deadbeats on the state. I figure a man needs to do his own thinking. What happened to us last night can happen to anyone, white or black. At one time I didn't think so, but I have changed my mind."
Dahmer died January 10, 1966 at the age of 57.  Sam Bowers was arrested for the murder of Vernon Dahmer and received 32 years in prison.
sources:
http://nuweb9.neu.edu/civilrights/vernon-dahmer/
http://www.findagrave.com/cgi-bin/fg.cgi?page=gr&GRid=17694683