William Worthy, Jr. was an African-American journalist, civil rights activist, and dissident. He was also an influential foreign correspondent whose activities and writings from the 1950s through the 1980s helped transform the role of modern foreign correspondence.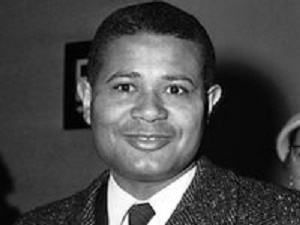 Worthy was born in Boston, Massachusetts. His father was an highly regarded obstetrician. Worthy was a graduate of Boston Latin High School and received a B.A. degree in sociology from Bates College in Lewiston, Maine, in 1942. Worthy was a Nieman Fellow at Harvard University, class of 1957.
Against the travel regulations held by the United States at the time, Worthy entered China (1956–57) and Cuba (1961). At the time he entered China, he was the first American reporter to visit and broadcast from there since the country's communist revolution in 1949. While in China, Worthy interviewed Samuel David Hawkins. He was an American soldier who was captured by the Chinese during the Korean War and defected to China in 1953.
During the mid-1900s, Worthy was a civil rights activist, and in the early 1960s, he was an outspoken critic of the civil rights movement, as he believed it was not going far enough to achieve civil rights in housing and all areas of American life.
Worthy was close friends with Malcolm X and one of his closest allies. He organized a rent strike against a Catholic hospital in New York City that attempted to tear down Worthy's apartment building and turn it into a parking lot. Although he was a supporter of Malcolm X, he was critical of the Black Panthers in a 1969 column for "gratuitous and indiscriminate" 'Uncle Tom' attacks on virtually all the black bourgeois" and their exposure to law enforcement due to "sloppy, inefficient, undisciplined organizational follow-through."
William Worthy, Jr. died in Brewster, Massachusetts, on May 4, 2014, at the age of 92.
sources:
http://www.tandfonline.com/doi/abs/10.1080/14616700802636227?journalCode=rjos20
http://aaregistry.org/historic_events/view/william-worthy-jr-born