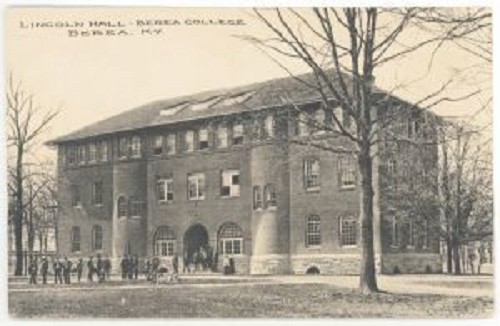 Berea College's Lincoln Hall–or what used to be called "Recitation Hall"–was the focus of civil rights activities for nearly three-quarters of a century. Berea was founded in 1855 to specifically to educate black and white students together. Black students made up one third to one half of the school's student body.
Lincoln Hall, a three-story brick building constructed in 1887, contained classrooms, a library, offices, laboratories, a museum and meeting rooms. It is one of the oldest buildings on the Berea campus.
In 1904 integration at Berea was put to a halt when the Kentucky state legislature passed the "Day Law," mandating segregation. For four years, Berea College and its supporters fought the law in the courts, presenting a wealth of documentation on how integrated classrooms had benefitted students. They lost. In Berea College v. Commonwealth of Kentucky, the Supreme Court ruled that since Berea was a private college incorporated by the state of Kentucky, the state had a right to regulate it according to its own laws.
In 1950, the Day Law was amended by the state legislature, allowing Berea to admit black students who could not find comparable courses at the Kentucky State College for Negroes. This restriction was removed by the 1954 Brown v. Board of Education decision, which upheld the right of a black girl in Topeka, Kansas to attend an all-white school and which also overturned Berea College v. Commonwealth of Kentucky.
sources:
https://libraryguides.berea.edu/Lincoln_Hall