#Willie Francis was sentenced to death in St. Martinville, Louisiana in 1945 at the age of sixteen. He was convicted of killing Andrew Thomas, a fifty-three-year-old Cajun pharmacist of St. Martinsville, Louisiana. Francis' jury did not include any blacks; his court-appointed attorneys did not present a defense and declined to cross-examine the State's witness. Andrew Thomas' murder remained unsolved for nine months; in August 1945 Francis was detained in Texas due to his proximity to an unrelated crime. Police found that he was carrying Thomas' wallet in his pocket. Francis initially named several others in connection with the murder, but the police dismissed the claims. A short time later under interrogation, Francis confessed to Thomas's murder, writing: "It was a secret about me and him." However, Willie wrote this at a time he was not represented by an attorney. Later, Willie was convicted and sentenced to death by execution on May 3 1946.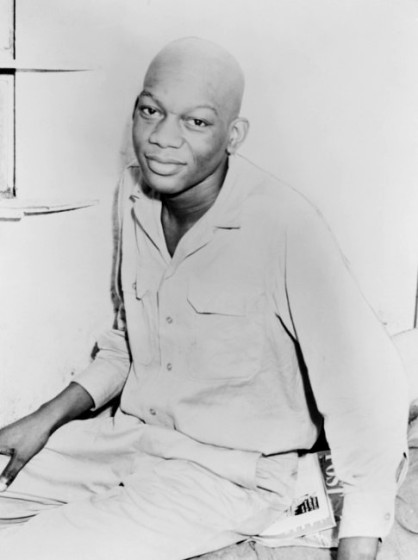 On execution day, executioners strapped Willie into "Gruesome Gertie," the electric chair that had been used to execute twenty-three people; he convulsed and screamed, but did not die. The portable electric chair, known as "Gruesome Gertie," was found to have been improperly set up by an intoxicated prison guard and inmate from the Louisiana State Penitentiary at Angola. When the sheriff ordered the electricity shut off, Willie was taken back to his cell, spared and hopeful.
Reflecting on the experience afterward, Willie wrote:
I didn't think about my whole life like at the picture show. Just, 'Willie, you're going outta this world in this bad chair.' Sometimes I thought it so loud it hurt my head and when they put the #black bag over my head I was all locked up inside the bag with the loud thinking . . . I felt a burning in my head and my left leg and I jumped against the straps. When the straps kept cutting me I hoped I was alive and I asked the electric man to let me breathe. That's when they took the bag off my head.
Within an hour of the failed execution, Louisiana Governor Jimmie Davis ordered the chair fixed, and a second try was scheduled for one week later. On May 9, 1947, at 12:05 p.m., Willie Francis died in Louisiana's electric chair.
source:
http://www.williefrancis.com/inside/html/book.html
http://www.theadvertiser.com/story/news/local/acadiana/2014/08/02/acadiana-people-failed-executions-carry-echoes-willie-francis-case/13524897/