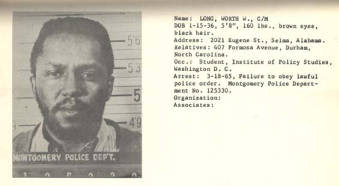 My role as an organizer – community and cultural – is basically to give people an option. Powerlessness is basically having no option." -Worth Long
Worth Long was a leader among Philander Smith College students. He was passionate about desegregation in Arkansas when he chose to join the Downtown Negotiating Committee as a representative.
Long was raised in Durham, North Carolina and relocated to Selma, Alabama to replace SNCC's Bernard and Colia Lafayette as project director in 1963. He attended Philander Smith College in Little Rock in 1962.
Long quickly rose as a leader in the Arkansas SNCC-affiliate when they staged sit-ins at Woolworth's and Walgreen's lunch counters. When Long stood trial for his arrest in June 1963 in Little Rock Court, he wore a long black armband to mourn the death of Mississippi NAACP leader Medgar Evers who had been murdered in his driveway the day before. Just months after, he became a SNCC organizer.
Long developed a philosophy of justice at an early age. His father was the Presiding Elder at a Durham AME Zion church who regularly preached to his congregation the ideals of Pan-Africanism and Black self-sufficiency. Long remembered these lesson as he developed his own philosophy of social justice well before he even reached SNCC. Before college, Long spent two years in the Air Force in Korea and Japan, where he became aware of "folklore." His passion for oral history was so strong that when he got married in 1959, he chose a tape recorder rather than a wedding ring.
In 1970, Long brought Black folklore and music to the Smithsonian, where he became one of the most celebrated folklorist and festival organizers.
Source:
Jennifer Jensen Wallach and John A. Kirk, Arsnick: the Student Nonviolent Coordinating Committee in Arkansas
http://www.festival.si.edu/2012/Special_Events/ralph_rinzler_concert.aspx