Vincent Lushington "Roi" Ottley was an American journalist and writer. He was among the most notable famous Black correspondents in the United States during the mid-20th Century. Although his work has been forgotten, he worked to tell the story of the millions of African-Americans throughout the South.
Ottley was born in Harlem, New York in 1906 to parents Jerome P. and Beatrice Ottley who were immigrants from Grenada. Ottley attended New York public schools and was known as an exceptional basketball, baseball, and track athlete. He won a track scholarship to St. Bonaventure University in 1926 where developed his skills as a writer. He later transferred to the University of Michigan in 1928 to concentrate in journalism.
During World War II Ottley traveled to Europe where he became known as the first African-American war correspondent to write for a major paper. He covered the events of World War II on a day to day basis for several major newspapers such as Liberty Magazine, PM, and the Pittsburgh Courier.
In 1943, Ottley wrote New World A-Coming, a description of Harlem in the 1920s and 1930s. The book became a best seller and won a number of prestigious prizes including the Ainsworth Award and the Peabody Award. In 1944 Ottley was commissioned as a lieutenant in the United States Army and became the first black war correspondent to cover the conflict for major newspapers.
By the early 1950s, Ottley was a columnist for the Chicago Tribune. There in 1955 he wrote Lonely Warrior, a biography of Robert S. Abbott, the founder of the Chicago Defender. Two other books, White Marble Lady (1965) and The Negro in New York: An Informal Social History, 1624-1940 (1967) were published posthumously. Roi Ottley died of a heart attack in 1960.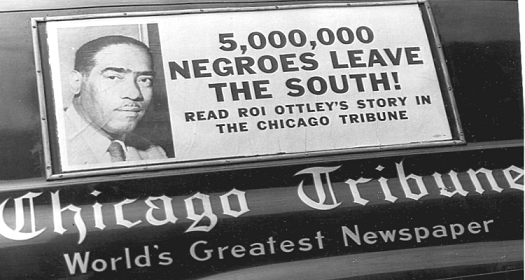 Source:
http://web.sbu.edu/friedsam/archives/ottley/biography.htm