Joseph Bologne, Le Chevalier de Saint-Georges was born December 25, 1745, on a plantation near Basse-Terre on the French Caribbean island of Guadeloupe. His mother, Anne Nanon, was a slave-mistress to his father, the nobleman George de Bologne de Saint-Georges.
Saint-Georges was educated in France, where his father became Gentleman of the King's Chamber. At the age of 13, he began attending the fencing academy of Nicolas Texier de La Boessiere. He attended the academy for six years and at the age of 17, he became "Le Chevalier de Saint-Georges." He was also named as an Officer of the King's Guard. By age 19, Saint-Georges was called "The God of Arms." He suffered only one known defeat in a serious fencing match.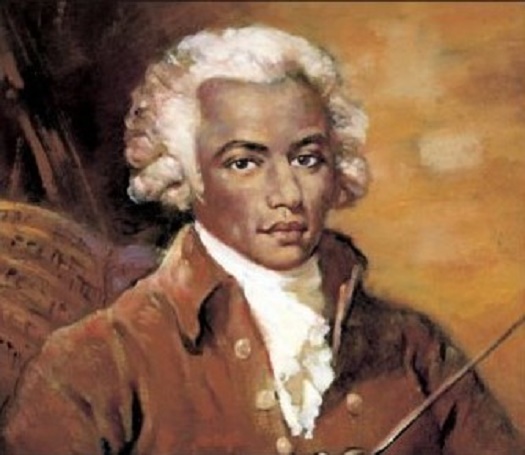 His skill on the harpsichord and violin earned him dedications from major composers, beginning with Antonio Lolli in 1764. Before he turned 20, Saint Georges took up studies of the violin under Leclair, and composition under Gossec. From 1758 to 1768, he dedicated himself to learning and mastering both musical composition and performance on his instrument of choice, which he soon mastered as securely as fencing.
In 1769, Gossec appointed St. Georges first violinist of the Concerts des Amateurs, the young composer's first professional post. By 1773, Saint-Georges was a highly-respected musician and took over Gossec's post as director of the Concerts des Amateurs. Four years later, he wrote three violin concertos and six string quartets. Early in 1779, he began performing music with Queen Marie-Antoinette.
During the Revolution, he joined the newly formed Republic in 1788 and assembled a new military force in northern France. By 1791, he completely left music to become captain of the National Guard in Lille. However, Saint-Georges was wrongfully accused of misappropriation of funds intended for the troops. He was stripped of his command and put in prison. 
After prison, he returned to Paris in 1797 to resume his musical career, directing a new musical organization, Le Cercle de l'Harmonie. He died two years later on June 10, 1799.
sources:
http://chevalierdesaintgeorges.homestead.com/Page1.html
http://www.notablebiographies.com/supp/Supplement-Mi-So/Chevalier-de-Saint-George-Joseph-Boulogne.html
http://www.blackpast.org/gah/saint-georges-le-chevalier-de-joseph-de-bologne-1745-1799